Kitchens 101: Trends and best practices in kitchen style, layout, and functionality.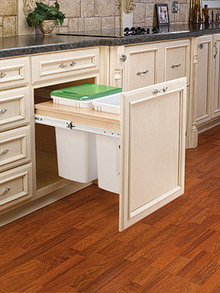 Keep your trash easily accessible while tucking it away.
Pull-out trash bins help maximize the functionality of your kitchen by addressing a number of common kitchen challenges.
Speeding cleanup.
By building the trash bin into your cabinetry, it can be optimally located for common kitchen tasks. Positioning it near the sink and main prep surface will cut down on time walking over to a trash can. For larger kitchens with multiple work surfaces, consider additional pull-outs to serve these areas.
Clearing floorspace.
Every square inch of floorspace is valuable in a kitchen. As the most highly-trafficked room in the house, it is imperative that walkways be kept clear of obstacles. Because kitchens see more use (and more messes) than any other room, floors need to be kept clear to make cleanup easy. Unlike bulky trashcans that will undoubtedly become an obstacle, pull-out bins are up off the floor and stay out of your way.
Guarding against pet messes.
Exposed trash cans can become a target for hungry or bored pets. Freestanding cans can be tipped over, creating a mess and potentially causing an injury in the process. Pull-out bins are an easy way to protect against this, keeping the smelly trash tucked away. Let's just hope your dog doesn't learn how to open drawers!

Roger Hazard
· Founder · Roger + Chris · Sharon Springs, NY
Roger Hazard is TV's original home stager, as well as designer / producer on the international, Emmy-nominated "SELL THIS HOUSE," "SELL THIS HOUSE: EXTREME," and "MOVE THIS HOUSE." MORE ABOUT Roger Hazard
Hot right now on Roger + Chris

Best Blue Velvet Sofas
We've gathered some of our favorite sofas and armchairs in gorgeous blue velvets, along with design inspiration from around the web.


RELATED POSTS
Guidebook, Step Seven: Renovation Challenges
Step seven of the design process addresses some of the challenges you may face during your renovation. While most problems can be avoided through careful planning, all kitchen renovations are bound to uncover a surprise or two. Here are a few of the most common challenges faced in kitchen renovations, and some suggestions on how to minimize them through careful planning and fact-finding.

Deconstructing a Kitchen: Sleek Sophistication
There's modern, and then there's MODERN. This kitchen pulls out all the stops to deliver a sleek, ultra-contemporary look. There's substance behind all that style, with clever planning that maximizes storage and work space.

Guidebook, Step Two: Defining the Project
After carefully considering how the layout, style, and purpose of your kitchen fits with the rest of the house, it's time to define your kitchen renovation project by assisting your unique priorities, identifying the spaces that will be impacted by the renovation, seeking opportunities to optimize your budget, and applying the information you gleaned from Step One.