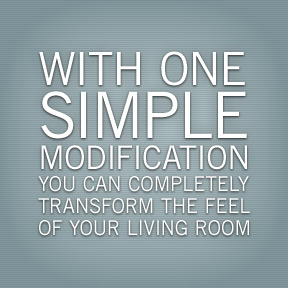 Recessed lighting is almost ubiquitous in today's homes, for a number of reasons. Simple "can" lights are inexpensive to install, they provide even lighting in large rooms and hallways, and, being free of adornment and tucked into the ceiling, they are neutral and compatible with any interior design.
There are, however, a couple of downsides.
Let's look at how recessed lighting is used in a living room. An average-sized, rectangular living room will require at least four cans to provide even light across the space. But most of us want more than just overhead lighting in our living room, so we will bring in table lamps, floor lamps, up lights, art lights, and other sources of illumination. And don't forget the biggest light of all in many living rooms - the giant, glowing TV.
If you enjoy recreating daylight, switching on all of these lamps is the way to go. But if you want to create a different feel - for example, a cozy space for watching a movie or an elegant environment for a party - you will need to make some adjustments.
With one simple modification, you can completely transform the feel of your living room, giving you the power to instantly adjust from a brightly-lit box to a sexy, inviting space reminiscent of the lounge in a luxury hotel. This modification costs less than buying a new floor lamp and requires only basic tool skills. And, best of all, running your recessed lighting at lower power levels saves electricity and lengthens the lifespan of the lightbulbs. Lutron, the manufacturer of many dimmer switches, has an energy savings calculator worth checking out.
We're going to step through the process of installing a dimmer switch and selecting new bulbs for your recessed lighting. The dimmer switch will allow you to reduce the intensity of the coming from your cans and, in conjunction with the new bulbs, will create a more pleasing effect.
[Disclaimer: I know that some of you may be thinking that this project is pretty obvious, but after visiting countless homes with recessed lighting, I can say that only a small percentage of owners have undertaken this upgrade.]
Step one: Determining the type of dimmer switch needed. You have to three decisions to make when selecting a dimmer switch.
First, you will need to determine which type of circuit your lights are on. This sounds complex but is actually easy: is there just one switch that turns the can lights on, or are there two? If there's only one switch, you will need a "single-pole" switch. If there are two, you will need a "3-way" switch. Note that some companies make a single model of switch that can be used in single-pole and 3-way circuits, with the installation process determining how the switch operates. If you have trouble finding the right type, your hardware store's staff will be able to help.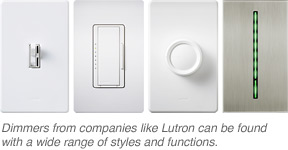 Second, decide which shape of switch to use. I recommend staying consistent with the other switches in your house to keep the switch from sticking out. This is particularly important if you are adding the dimmer to a multi-switch panel because your new switch needs to fit through the cutouts in your existing wall plate.
Third, determine which other features you want. You can choose from touch-sensitive versions that adjust light intensity with the swipe of your finger, switches that separate the on/off function from the dimmer function, and even devices that can be remotely controlled via your smartphone - sort of a modern take on The Clapper. FYI, my favorite is the Lutron toggle dimmer because it's inconspicuous and lets us set the light level. Even better, it's the cheapest.
Step two: Installing the dimmer switch.
Installing the switch isn't difficult and can be done in less than 30 minutes. You should be able to get by with just a screwdriver or two; wall plates are almost always fastened with a standard screw, but the switch and wire screws might be Phillips-head. On occasion, you might need a pair of needle-nose pliers for working with the wires.
I won't explain the whole process, as the switch will include detailed installation directions. Each model has a slightly different configuration, so pay close attention to the terminal arrangement. Be sure to keep track of the wires as you unscrew them from the old switch.
[Please don't electrocute yourself. I've done it, and it isn't fun. If you aren't familiar with circuit breakers and wiring, call a handyman friend or an electrician.]
Step three: Swapping out light bulbs.
After you install your dimmer switch, you may be a little bit disappointed with the outcome. Yes, you can drop down the intensity of light, but below a certain level - 50% or so - the lights cease to illuminate much of anything and don't give the dramatic pools of light that are so appealing in fashionable hotels and restaurants.

This is because your recessed lightly is probably using bulbs that have a flood pattern. Flood bulbs distribute light over a wide angle, creating a diffuse glow. To create attractive pools of light and allow you to enjoy your overhead lighting at lower levels of brightness, switch to spot bulbs, which focus their output in a narrower angle and will "throw" more of the light all the way down to the floor. One example of a bulb that may work for you is Sylvania's PAR38 Reflector Spot.
[Note: Most CFL bulbs are incompatible with dimmers. A few dimmable models can be found here.]

Hot right now on Roger + Chris
How to Clean Velvet Furniture
Velvet fabric can be a bit trickier to clean than other fabrics because, in addition to removing the stain, you must take care to avoid "crushing" the nap of the fiber. Here are some tips to help you successfully remove stains without damaging your beautiful furniture.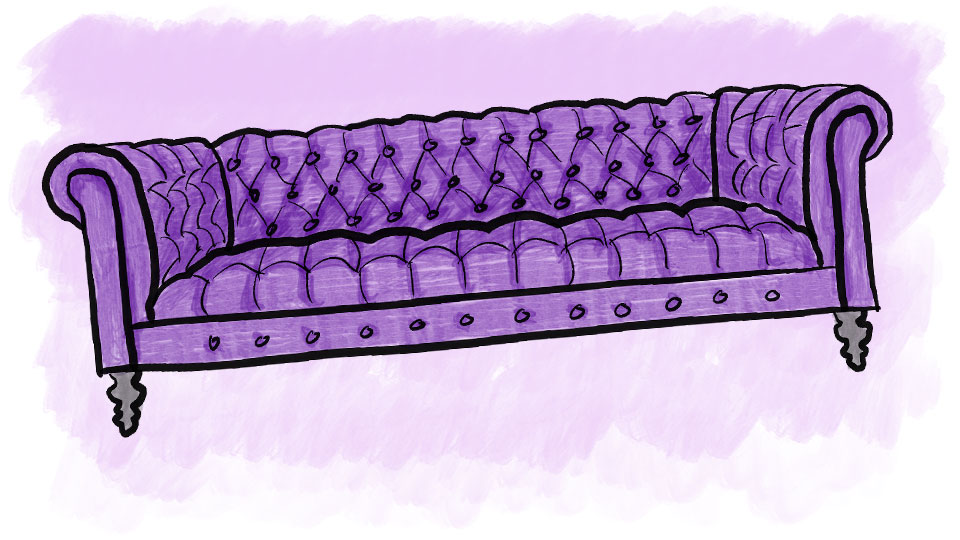 RELATED POSTS
This Tiny House Can Pick Up And Move
One luxury afforded to tiny houses is the potential for portability. Madrid-based architecture firm ÁBATON has engineered that trait into its new ÁPH80 Transportable House.