Even in relatively healthy real estate markets, the average length of time houses spent on the market has increased. If the "for sale" sign has been in your front yard longer than you had hoped, don't despair. Instead, consider one or more of the following ten quick fixes to catch the eye of buyers.
1. Get information on your home. It can be difficult to get valuable feedback on your home if you haven't had any showings lately. Have an open house for friends, and place index cards, pens and a shoebox near the front door. Ask them to write down - anonymously - any negative issues they see with the home. It might not be for the faint of heart, but the feedback can be priceless.
2. Kill odors, then introduce appealing scents. Every home has trapped odors that build up over time in upholstery, drapes and carpets. The winter is a perfect time to have these professionally cleaned. Instead of harsh plug-ins, use essential oils - rosemary is a good choice - and drip sparingly on your carpets.
3. Maximize light. There isn't much daylight during the winter months. Make the most of it by removing bug screens, which can substantially reduce the amount of sunlight allowed in through your windows. Be sure to give your windows a good cleaning. After a dry summer, they're likely covered with a fine coating of dust; removing this will bring in more light and make the windows look newer.
4. Declutter ... again. I know, you've already decluttered your home. That's what everyone says. But take another serious look at each room. Can you do without out-of-season clothes? What about the rarely used kitchen gadgets on the counter? Every home buyer is hungry for more space. Demonstrate that your house has sufficient counter, storage and closet space by packing up nonessential items and clearing them out.
5. Get your home preinspected and address any issues now. By working with an inspector in advance, you can get a jump on any potential red flags that might scare away serious buyers. You'll have a chance to tackle these repairs proactively and will have time to shop around for affordable service providers. Be sure to keep detailed records on the repairs you've completed to present to prospective buyers.
6. Offer an allowance. If there are more significant repairs needed to your home, or if there are functional but dated features ready for replacement, consider offering an incentive such as an allowance toward repairs to be deducted from the sale price at closing.
7. Spruce up your yard for winter. Curb appeal is important. Now that we've actually received a bit of rain, some yards can look better than they have in months. Take care of your end-of-year pruning to keep plants looking tidy. Bring back the green in your lawn by seeding it with rye grass. Add color with winter flowering plants like pansies.
8. Hire a professional. Bring in a professional interior designer or home stager for a one-hour consultation. Ask them to assess your home and offer their recommendations for quick, do-it-yourself fixes. Their feedback will give you confidence that you're focusing on changing the right elements and will include specific information on which colors and finishes will work best.
9. Freshen your online listing. In the past, I've discussed the importance of quality photography. Now might be a good time to consider hiring a professional to take some new photos. If you have unique details or fixtures, mix in some close-up and vignette shots with your whole-room photos so prospective buyers see charming details that make your home stand out. Be sure to rotate around your photos, replacing older ones with new shots. Your home's first photo - the one that most buyers will see as they scroll through a list of houses - needs special attention.
10. Reduce the price. If your home has been on the market for three to six months with no offers, it's time to consider a price reduction. There's some debate as to whether Austin is a buyer's market or a seller's market, but the fact is that buyers are less frenzied in their attempts to snatch up properties than they were a few years ago. With many buyers adopting a wait-and-see approach, a price reduction might convince them to move.

Roger Hazard
· Founder · Roger + Chris · Sharon Springs, NY
Roger Hazard is TV's original home stager, as well as designer / producer on the international, Emmy-nominated "SELL THIS HOUSE," "SELL THIS HOUSE: EXTREME," and "MOVE THIS HOUSE." MORE ABOUT Roger Hazard
Hot right now on Roger + Chris
Best Blue Velvet Sofas
We've gathered some of our favorite sofas and armchairs in gorgeous blue velvets, along with design inspiration from around the web.

How to Clean Velvet Furniture
Velvet fabric can be a bit trickier to clean than other fabrics because, in addition to removing the stain, you must take care to avoid "crushing" the nap of the fiber. Here are some tips to help you successfully remove stains without damaging your beautiful furniture.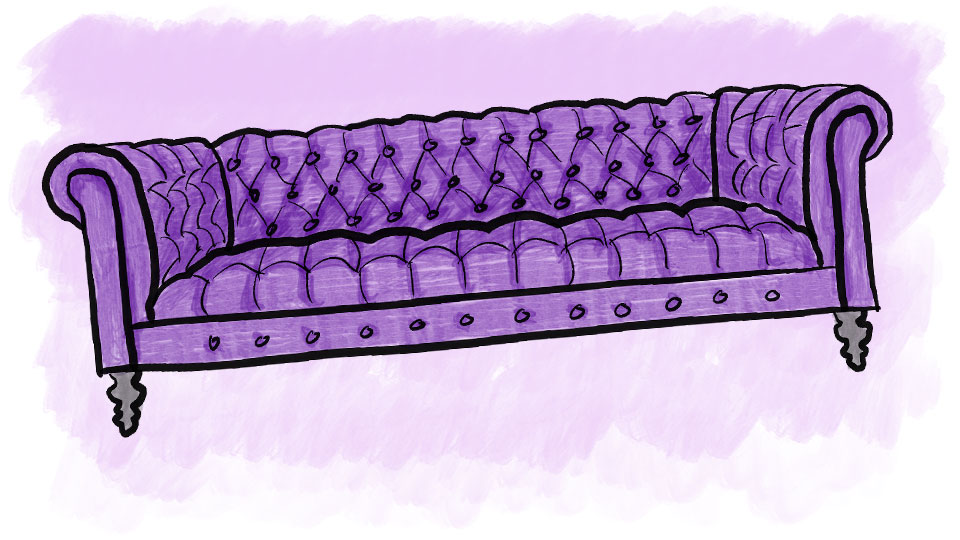 RELATED POSTS
In Defense of Track Lighting
According to Clairee Belcher in Steel Magnolias, all gay men have track lighting, and all gay men are named Mark, Rick, or Steve. We're not named Mark, Rick, or Steve, but otherwise I'm afraid we're playing to stereotypes. Because we love track lighting. Here's why.

How Big Of A Sofa Can I Get?
Who doesn't love a big, comfy sofa? We're certainly fans. Opting for the largest couch available maybe tempting. But how can you be sure it will fit?