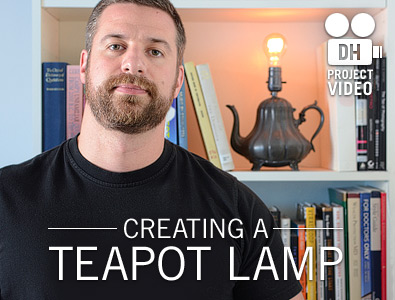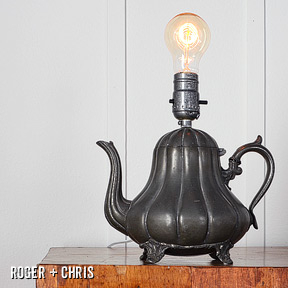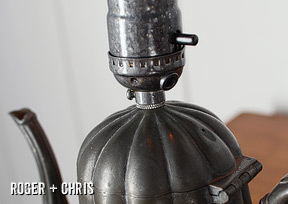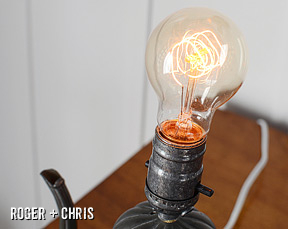 Combine an antique teapot with an inexpensive lighting kit to create a one-of-a-kind lamp for your home. All it takes is about thirty minutes and around $30 dollars.
Watch this video to learn how to select the right kind of teapot, what parts you will need, and how to assemble the lamp.
Here's what you'll need for this project.
A teapot or similar item for the lamp body
A Westinghouse Make-A-Lamp kit
A Westinghouse lamp accessory kit
A light bulb
Spray paint (optional)
A plug-in lamp dimmer (optional)
A lampshade, harp, and finial (optional)

Hot right now on Roger + Chris
10 Design Tips for Picking the Perfect Chesterfield
The Chesterfield sofa - one of the oldest and most desireable sofa styles - is seeing a very well-deserved resurgence in popularity. As "the king of sofas," the Chesterfield bring a huge amount of style and comfort to any home or business. Available as a sofa, sectional, armchair, or chaise, there are quite a few things to consider when picking the perfect one. Here are 10 tips that will give you a big head start on the search for your dream Chesterfield.


Restyling a Garden House: Paint It Black
A cute, 160-year old Italianate Victorian had the potential to be a stunning garden house - but only after taming the garden, adding style to the porches, and applying some unexpected new colors.

RELATED POSTS

Deconstructing a Kitchen: Clarksville Bungalow
I tackled this tiny Austin kitchen in the premier episode of my TV show, "Sell This House: Extreme." In just a few days, my team and I completely renovated the kitchen ? as well as the living room, dining area, both bedrooms, and the front yard. While all of the changes we made were important to increasing the value of the home, the kitchen transformation packed the biggest punch, helping boost the asking price by $100,000.