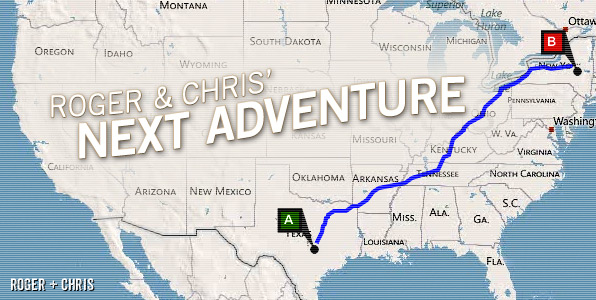 Chris and I have had quite a year.
We completely redecorated every room of our house, and landscaped the front and back yard.
We spent months out of town as we traveled the country filming my TV shows Sell This House and the new Sell This House: Extreme.
We worked with renovation and staging clients around the country.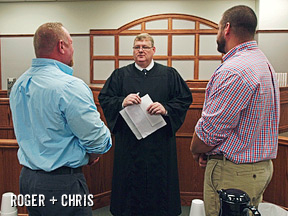 We created this website as a source of inspiration and tips for anyone interested in home design, and also contributed stories and photos to newspapers, magazines, and blogs.
We spoke at home and garden shows around the country. (Well, Roger did. Chris just held the microphone during the question and answer sessions.)
We started our furniture company Roger + Chris, designing a line of upholstery furniture that customers can make their own - and that we can make here in the U.S.A.
Oh, and we got married!
Now, to the "we're crazy" part.
Chris and I want to take on a big challenge. We have decided to sell our home in Austin, and are looking at houses in upstate New York. After the experience of transforming a new home into something with rustic charm, we're ready to do the opposite: fuse modern and classic designs in a 200+ year old house.
We will be taking you on a room-by-room tour of the renovation of a house, complete with all of the surprises to be expected when working on a home built only a few years after the Constitution of the United States of America was signed.
Our goal is to show you everything that it takes to renovate and add style to a home. We want you to be inspired, get great do-it-yourself tips, and learn how to find amazing furniture and accessories.
Beyond renovating our own home, we will take you on shopping trips, show you quick staging ideas, and maybe even invade our friends' houses to infuse them with style.
You will get to see everything - where we found items, what we paid for them, the things that worked right out of the gate, and the projects that didn't turn out the way we had planned. You'll learn how we decide what to spend big money on and what we can do inexpensively. We're going to demystify design, and help you add more style to your own home.
We hope you come along with us for the journey. It's going to be tremendously exciting (and a little bit scary), but we think we'll have a blast.
- Roger &amp Chris Stout-Hazard
P.S. Chris has added the ability to post comments to articles on this site. Feel free to let us know what you think using the comment area below.