The Modern Farmhouse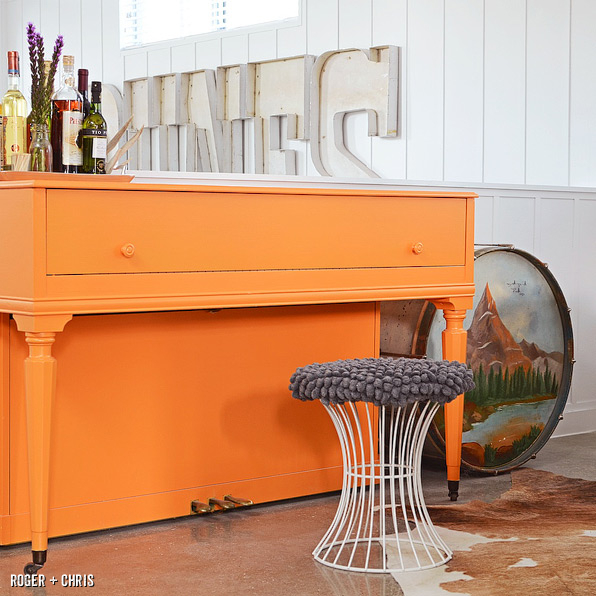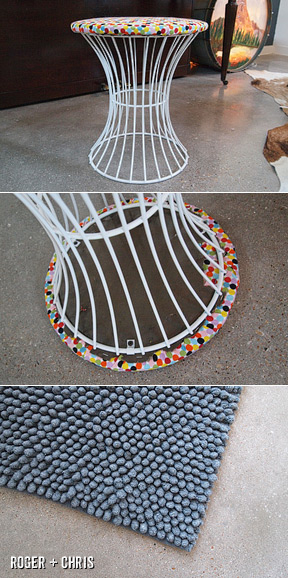 We wanted to add substance and texture to this wire piano stool, so we recovered it using a chenille bath mat with big, soft pom-poms.
Recovering most chairs is a fairly straightforward process. The seat can typically be separated from the base by removing a few screws. If the seat foam is still in good condition, it is easiest if you cover right over the existing fabric. With most fabrics, all you will need is a pair of scissors and an upholstery stapler.
Tip: You might be able to get by with a desk stapler or general-purpose staple gun. However, I strongly recommend spending around $20 on a real upholstery stapler if you're going to be doing more than one recovering job, as it will perform better when driving staples into the wood board that forms the seat.
After removing the seat, I laid the bath mat face down on the floor and placed the seat on it. I trimmed away the excess material but left a healthy border to give me some flexibility; you can always trim away extra fabric after affixing it to the seat, but you definitely don't want to cut it too close on the first attempt.
Because I was working with a chenille mat with a very thick pile, I had to fiddle with it a bit. It wasn't easy to staple, and the staples alone wouldn't hold the fabric in place because the material was so soft. In the end, I used the staples to keep it in place, then replaced the base, screwing through the bath mat and tightening everything enough to allow the metal rim of the base lock the mat into place. After reassembling the stool, I trimmed away the excess mat and a few pom-poms that were hanging down too low.
Sources: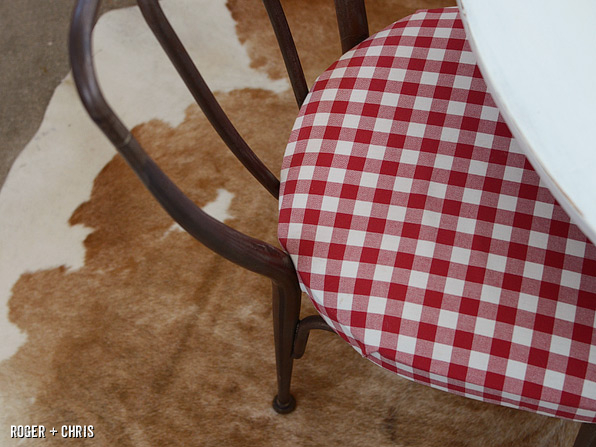 Hot right now on Roger + Chris
How to Clean Velvet Furniture
Velvet fabric can be a bit trickier to clean than other fabrics because, in addition to removing the stain, you must take care to avoid "crushing" the nap of the fiber. Here are some tips to help you successfully remove stains without damaging your beautiful furniture.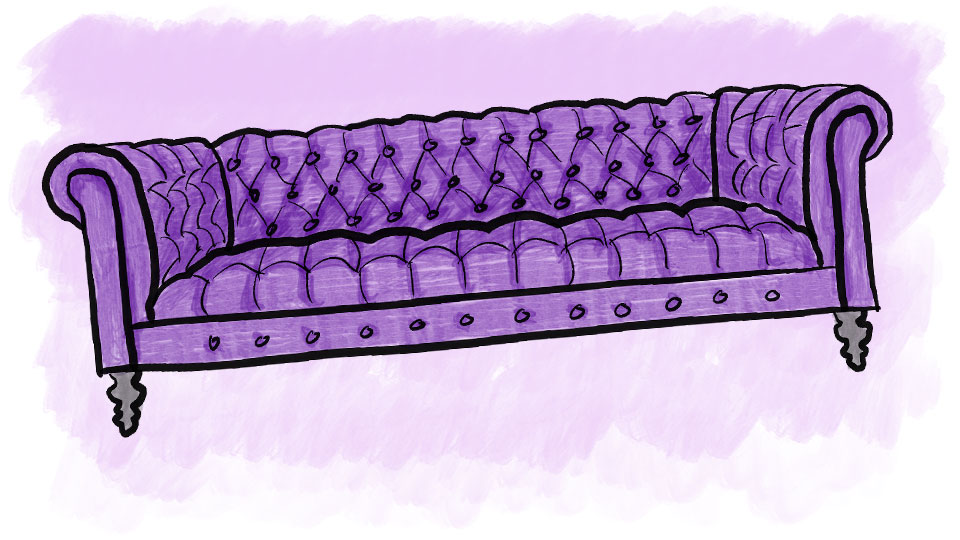 RELATED POSTS


Achieve Front Yard Privacy
Whether you're trying to expand your precious outdoor living space, block unsightly neighboring yards, or enhance security for your family, here are three methods for boosting front yard privacy.