Everyone complains about a lack of closet space, mostly because we humans are like goldfish - we grow to the size of our container. Whatever storage space we begin with is quickly consumed as we collect more and more junk priceless valuables.
In most homes, the problem isn't lack of space but lack of efficiency in the use of that space.
Chris and I addressed this very situation when we renovated our home. We had three storage areas that needed help: the master bedroom's walk-in closet, the guest bedroom's double-doored closet, and the small office closet.

Our master bedroom's closet is part of the connected bathroom. It had a simple pole with a shelf above it on all three sides. Because the bedroom is compact, all of our clothes need to be stored in the closet, so we had two small dressers against the back wall. This resulted in a mess, with folded shirts stacked in piles atop the shelves, shoes scattered on the floor, and lots of wasted space. To make matters worse, there is no door to this closet, so it was impossible to hide the mess.
We worked with California Closets to transform the walk-in into a tailored, functional space, and then added a dose of style to make it a showpiece. Because Chris and I rarely wear formal clothes, we focused on shelving for folded clothing, dual pole hangers for storing shirts, and built-in drawers to replace the previous dressers. Since our dog, Buck, has a history of destroying shoes left laying around, we added out-of-reach shelves for storing them. We have pull-out hooks for belts and neckties, and a removable laundry hamper neatly tucked away. A big bonus to California Closets' system is that it's easily modifiable after installation. If we sell the house, the new owners can reconfigure the space to better fit their needs, which might include taller spaces for hanging dresses or slacks.
Prior to the installation of the closet hardware, we had CertaPro paint the bamboo floors glossy white, the walls Sherwin-Williams' cool charcoal "Cyberspace" (SW7076), and the ceiling "Hinting Blue" (SW6519). After the closet hardware was in place, we added a small woven cotton rug from Dash & Albert, and an antique garden stool we found at Casa Bella in Hot Springs, AR.
Thanks to these changes, our master bedroom closet is spacious, well-organized, and even stylish.
Our goal with the guest bedroom closet was to create a space that stored four types of items:
Bedding, pillows, and towels
Winter clothing and coats
Vacuums, mops, and other cleaning supplies
Guests' clothing and luggage
With that goal in mind, we worked with California Closets to design a space that accommodates a variety of items. Full-length hanging space stores longer coats, the many shelves act as an ideal linen closet, and the optimized space leaves free space for our guests.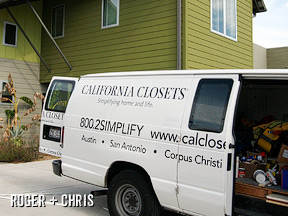 Finally, our office needed space for storing a wide variety of items - paper files, books, electronic equipment, flooring and fabric samples, and more. Unfortunately, the closet was a few inches too small for a pull out file drawer, so we opted for flexible shelving. We have the ability to adjust the shelves as needed as our storage requirements change.
Thanks to the Austin California Closets designers and installers for working with us to maximize the usefulness of our home's closets.