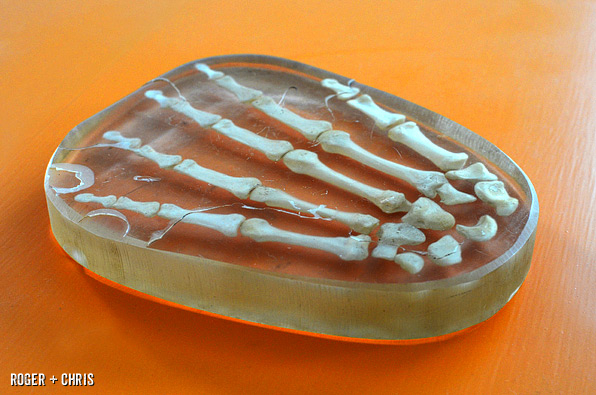 There is some debate between Roger and me as to whether this vintage scientific artifact we picked up yesterday contains real human bones or is simply a convincing reproduction.
However, there is no debate that it is possibly the world's most awesome paperweight.
Don't worry; this won't be used in a staging project (unless the target market is goth kids).

Hot right now on Roger + Chris
Best Blue Velvet Sofas
We've gathered some of our favorite sofas and armchairs in gorgeous blue velvets, along with design inspiration from around the web.


Restyling a Garden House: Paint It Black
A cute, 160-year old Italianate Victorian had the potential to be a stunning garden house - but only after taming the garden, adding style to the porches, and applying some unexpected new colors.

RELATED POSTS
Consider costs carefully when deciding to move or renovate home
As the housing market continues its gradual recovery, families seeking more space and nicer appointments are weighing their options. Selling and moving to a larger home might offer a more immediate solution, but many are opting instead to stick around and renovate their current house.

Living Room Color Dispute
Kari and her boyfriend can't agree on which color to paint their living room. She wants color; the boyfriend wants to keep it neutral to make their house easier to sell. What will Roger say?