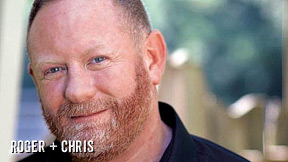 How Sell This House: Extreme Is Different
Sell This House: Extreme is a much bigger, much more complicated show than Sell This House. It is an hour-long show, we have a much bigger budget, and the types of projects we're tackling are far more demanding.
My target budget for the old show was less than $250 per room, including the cost of paint but not the cost of the painters. When you think about that, with around $30 per room automatically going to paint, there was very little budget to work with. I think that constraint forced creativity, and that was one of the things people loved about Sell This House - making a room look great for next-to-nothing. With Sell This House: Extreme, our goal was to mix big renovations with the same high-value tips. Our budget might be more like $20,000-$40,000 for a house, and we may be installing custom cabinetry and beautiful new appliances, but we're still digging in people's basements for furniture to spruce up. You'll see that in the first episode - the open house guests couldn't believe we'd found all the furniture in the basement.
The filming time is longer on the new show. Sell This House was shot over three days, but we really did all of the work in about a day and a half. Sell This House: Extreme involves cabinetry installers, plumbers, electricians, flooring folks, countertop fabricators, and more. The level of complexity and amount of work that's being done has probably increased ten-fold. We have to select a house over a month prior to filming because of all the prep work. I spend weeks preparing before we even get to a city - selecting materials, arranging contractors, etc.
At the house, it's a five-day shoot. No real work gets done on Day 1; just touring the house, interviewing, etc. Day 2 is demolition day, and very, very messy. Days 3 and 4 are for the installation of everything new. Day 5 is supposed to be for final staging, but we're always running behind, and it's really more like eight hours of non-stop panic that we won't be done in time. Renovating a whole house in four days - and trying to film the entire process - is a great way to raise your blood pressure.
Many people have asked what will happen with Sell This House after Sell This House: Extreme premiers. It's funny. After I film episodes, I am given almost no information as to when they will air or how the scheduling will work. We made 200 episodes of Sell This House and will not be filming additional ones, but I believe A&E will continue to show reruns earlier in the morning on Saturdays. The initial order for the new show was for a total of nine episodes. They will begin airing on Saturday, October 29th.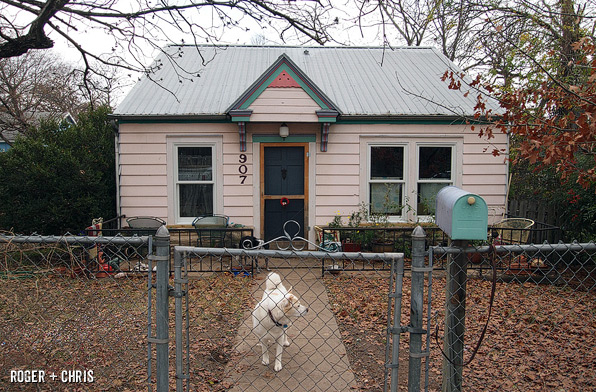 The Pilot House
The house in the pilot episode is located in the Clarksville neighborhood of Austin, TX. From the start, I thought that it was a cute house, packed with charm hidden just beneath the surface. My favorite feature was the shiplap siding that I saw in a few of the rooms. That inspired me to take it in a funky, rustic direction. I was happy to be starting with an Austin home, because I felt like we had an opportunity to appeal to hip homebuyers who are drawn to unique interiors and aren't just looking for generic white boxes.
There were quite a few challenges with this house. First off, it was very small. We had to be very creative to make the most of the space, particularly in the kitchen. We found a smaller range, closed up a redundant doorway, tweaked cabinetry sizes inch by inch - tricks like that. When you can't impress with size, you have to impress buyers by making every space look incredible AND extremely usable. I think we accomplished that. In the end, the kitchen reminded me of the tiny but amazing kitchens I would see in Manhattan apartments, but with a spin that was distinctly Austin.
It's hard to say what the biggest improvement to the house would be. Objectively, I think most people would point to the kitchen. I designed it with Adam Johnston from UB Kitchens here in town. He then traveled around the country with us to do the kitchens on the following episodes. We put in new flooring, opened up the doorway, and installed sliding French doors. The results were fantastic and made the house.
But my gut tells me that the biggest improvement was rescuing this home from becoming a tear-down. People kept talking about the lot - how good the location was, the size of the yard - with this implied, "Hey, pay for a lot, get a house for free." And there are indeed plenty of big, newly-built houses in that area.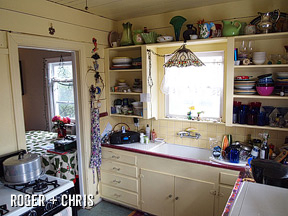 I was so proud to see other people discover all of the charm and potential that I had first seen in this little home. This house has history - it's a part of Austin's past. I really hope that, in part because of our work, it can be part of Austin's future as well.
On Filming In Austin
We chose to make the pilot here in Austin for a few reasons.
On Sell This House: Extreme and the other shows I have done, I'm not just a "TV designer." Many home improvement shows have teams of people responsible for planning and implementing the designs featured in each episode. The "star" on such a show is really just the one that explains things on camera. It doesn't work that way on Sell This House: Extreme; we have a very small team. I have a design assistant who helps me with projects and shopping. That's it.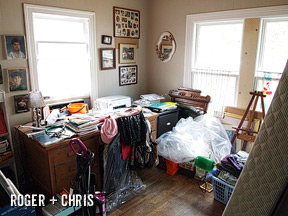 Making a pilot episode is like building a prototype. You have to be intimately involved in each step of the process. It was important that we shoot in Austin because I had to be able to visit the house numerous times in advance of filming, call in favors from vendors and contractors I had worked with in my design business, and make sure that the house, homeowners, and location were just right to make it as impressive and compelling as possible. My head producer and I even did casting for the show's contractor in my own kitchen.
Beyond all of that, the crew really likes working and staying in Austin. We frequently film in other cities that are more expensive and frustrating to work in. In some cities, it's almost impossible for find a house that meets all of our requirements, let alone homeowners who are excited about being involved. Even before I moved to town, Austin was a favorite location for us. Now that I'm based here, it's a no-brainer.
Tune in to A&E on Saturday, October 29th at 12PM (11AM Central) to see the premier of Sell This House: Extreme. Check back in at RogerHazard.com after watching to see exclusive before and after photos.