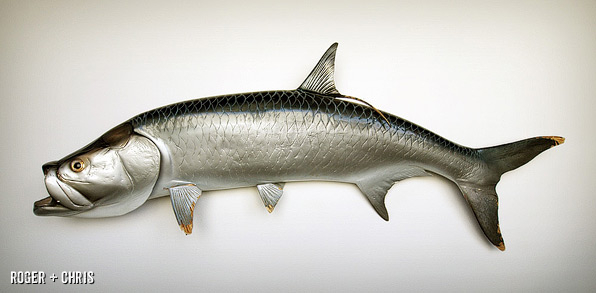 One of our rules for design: If something stops both Roger and me in our tracks, we use it.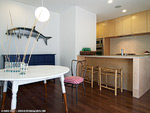 When we saw this tarpon in a vintage shop in Austin, we knew it would be perfect for an upcoming project. We were preparing to stage Faye And Walker Architecture's Court Houses, and had yet to acquire any artwork. We wanted art that was unpredictable, funky, and amusing.
Roger practically jumped at the prospect of hanging the tarpon on the staging home's dining room wall. If you wondered whether Roger had much faith in standard declutter-and-neutralize staging, that should provide your answer. We quickly bought the big guy (or is it girl?), helped unhook it from its spot high on the store's wall, and set about trying to fit it into the truck.
I've come to understand that each day holds surprises for me. How could I have anticipated that morning that I would, just a few hours later, be attempting to seatbelt a five foot-long mounted fish into the back seat of an F-150? Can taxidermied fins puncture leather seats? Is it better to position the spine towards the seat back, or towards the front of the cab? Will this thing even fit when I shut the door?
Answer: Yes. Barely.
How did people react to the tarpon in the staged house? Sean Guess, the architect of Court Houses, was thrilled when he first saw the fish on the wall of his house. He had fished for tarpon with his family as a kid, so it was fitting. The big fish was a clear focal point of the dining room area, and the first thing people saw upon walking in the front door. Even better, the unique architecture of the home allowed a view of the tarpon from the living room via a series of windows. Pretty cool. (If you want to learn more about staging Court Houses, here is Roger's column from The Statesman.)
What do you do with the tarpon when it isn't on the job? When it isn't used in a staging project, the tarpon hangs around in the open stairway of our house. And, to be honest, we really miss having it around when it's out on loan.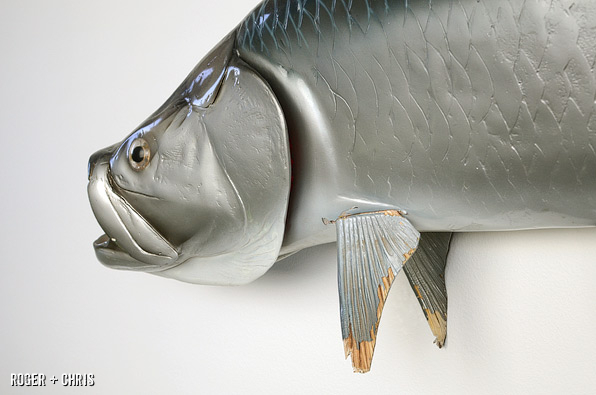 Hot right now on Roger + Chris

Restyling a Garden House: Paint It Black
A cute, 160-year old Italianate Victorian had the potential to be a stunning garden house - but only after taming the garden, adding style to the porches, and applying some unexpected new colors.

Best Blue Velvet Sofas
We've gathered some of our favorite sofas and armchairs in gorgeous blue velvets, along with design inspiration from around the web.

RELATED POSTS
Plan A Home Office That Is Functional And Inspirational
More of us are working out of our homes than ever. Whether full time or for just a few hours per week, it's important to carve out a dedicated area for work and storage. It can be a challenge to balance your work and home life, but the first step is designing a home office that meets your needs and inspires you daily.