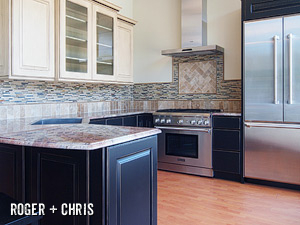 Each time I meet with a client or speak at a home and garden show, I'm faced with a barrage of questions about renovating kitchens. Homeowners even those who have undertaken major projects in other parts of the house have a tendency to seize up when it comes time to remodel this room. It's easy to understand why: The kitchen is frequently the largest and indisputably the most important room in a home, the epicenter of a family's day-to-day life.
Though these people know that their kitchens are due for updates, they've been hamstrung by the long list of design decisions that need to be made before they can proceed. Cabinet layouts, appliances, colors, countertops - the possibilities are endless as are, it seems, the potential style disasters.
Because most of the "furniture" in a kitchen consists of built-in cabinetry and appliances, there is minimal ability to tweak the arrangement after the fact. Getting it right the first time is essential.
Whether you intend to stay in your home for the foreseeable future or are planning to place it on the market soon, your dollar will stretch the furthest if you choose styles that will have a long lifespan. This often means looking past what's "all the rage" at the current moment and thinking ahead.
What's next in cabinetry. Homeowners seeking to maximize the value of their home's resale value should focus on utility over adornments. Cabinets with fewer details are more economical, will have a longer lifespan and can be more easily incorporated into a variety of decors.
"Half of the kitchens we install in Austin have Shaker-style cabinet doors (those with a rectangular inset). Slab doors (flat-fronted) also get a lot of attention," says Adam Johnston, owner of Austin-based Under Budget Kitchens. "I think they're popular because both options are simple and flexible. You can make your kitchen feel country, transitional or modern, just by changing out the hardware."
One of the most noticeable changes in cabinetry over the years is finish. Many times, you can accurately date the year a kitchen was installed simply by looking at the type of wood used. What's on it's way out? Dark woods. What's hot? Painted cabinetry in paler colors: off-whites, yellows, pale blues and grays.
To look premium and customized, kitchens need to be packed with one-of-a-kind style. The easiest way to do this is to mix cabinetry finishes, pairing pale blue-gray cabinets with a charcoal island, for instance. Mixing door and drawer hardware will help make the kitchen feel unique, as will using several countertop colors. Speaking of which...
Countertops move toward new materials and old favorites. Surfaces are cut to order and can be had in countless combinations of materials, color, finish and thickness. Much of the past decade was dominated by granite countertops - the ultimate status symbol in any new kitchen. As with all trends, the granite craze has started to lose steam as homeowners look to fresher options.
"I don't think that granite is going away, but the less-expensive granites have been monopolized by builders and no longer read as high-end," says Johnston. "If you want granite that will stay in fashion longer, focus on the lighter colors with subdued patterns. We've also seen customers make an island into a 'statement piece' by choosing a more exotic granite slab with lots of color and runs."
Homeowners seeking more cachet in their kitchen are looking to countertop surfaces both new and old. Quartz-based products such as Silestone and Caesarstone are relatively new on the market and can be found in a wide variety of colors. They carry a 40-percent to 50-percent premium over run-of-the-mill granite. Other surfaces that have been in use for years, such as limestone, soapstone, butcher block and marble, are seeing a resurgence in popularity.
Pulling it together. Though all these style decisions are important, the kitchen above all must be a functional space. Johnston's team works with homeowners to examine their space, as well as their current and future needs. Good planning can reduce the number of cabinets you need to install, which might open up floor space for other uses.
"Functionality always comes first, and it's timeless," says Johnston. "We have clients looking into the future a bit, like older couples who know they will need pull-out drawers and other accessibility features in the coming years. Meanwhile, young couples might be thinking about storage for their future kids."
The number of factors to consider is daunting, though Under Budget Kitchens has experience leading customers through the process. "If you don't have a professional designer working with you on making decisions, it's easy to become overwhelmed," says Johnston. "We recommend that clients make use of samples to put together a storyboard. It's important to see how all of the colors and finishes will look inside your own home."
He also stresses that you don't have to do everything at once. You could install cabinets and counters but wait a few weeks before installing a tile backsplash and cabinet hardware, for instance. Cabinets and counters will have to be done at the same time, but floors can be done first and wall paint could be done afterward.