(Please forgive us this indulgence.)
Focusing on quality and experience rather than volume.
We're proud to be a part of the stylish New Orleans restaurant Square Root. The second project by chef Phillip Lopez and manager Maximilian Ortiz (their first being the highly-regarded Root), Square Root has just been named one of NOLA's Best New Restaurants for 2014.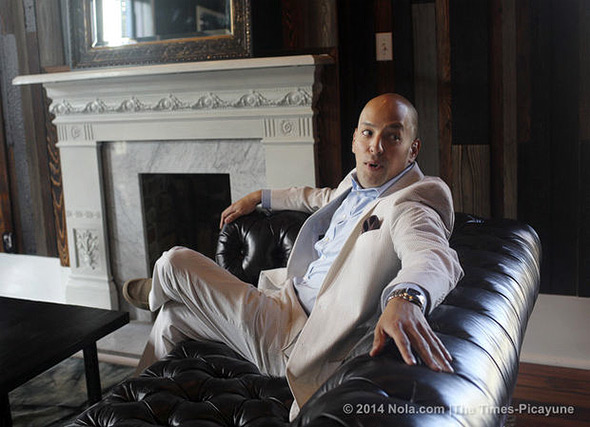 Co-owner and general manager Maximilian Ortiz sits on Higgins. Photo by Julia Kumari Drapkin, Nola.com | The Times-Picayune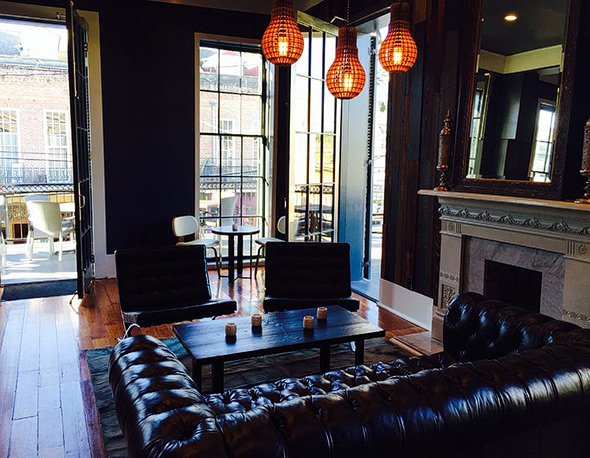 The Root Squared lounge with our Higgins Chesterfield sofa. Photo by Square Root.
With seating for only sixteen and an extensive chef's tasting menu, Square Root focuses on quality and experience rather than volume. (Not unlike our strategy.) Our Higgins leather Chesterfield sofa - in Firenze Smoke leather with our optional tight, tufted seat - graces the luxurious upstairs lounge - dubbed "Root Squared" where cocktails and small plates are offered.
We're excited to check out Square Root/Root Squared in person the next time we visit New Orleans. Visit the restaurant's website or read the profile in The Times-Picayune.
Roger + Chris furniture is increasingly popular among designers looking to add highly-customized yet unfailingly durable touch to commercial projects. We're proud to say that our furniture and lighting has been installed in restaurants, hotels, retail spaces, and corporate headquarters across the country. Please reach out to us for information on custom furniture for commercial projects.

Hot right now on Roger + Chris
Best Blue Velvet Sofas
We've gathered some of our favorite sofas and armchairs in gorgeous blue velvets, along with design inspiration from around the web.


How to Clean Velvet Furniture
Velvet fabric can be a bit trickier to clean than other fabrics because, in addition to removing the stain, you must take care to avoid "crushing" the nap of the fiber. Here are some tips to help you successfully remove stains without damaging your beautiful furniture.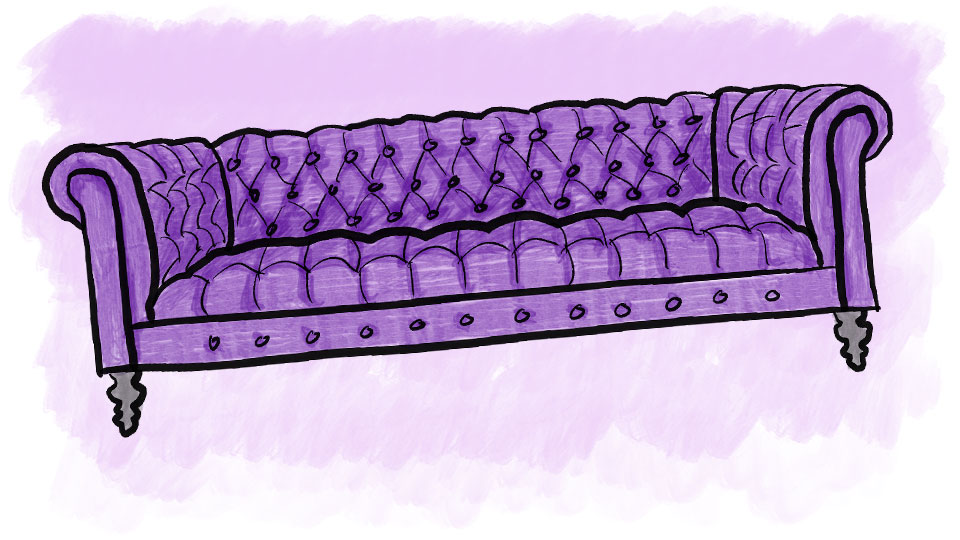 RELATED POSTS
Consider costs carefully when deciding to move or renovate home
As the housing market continues its gradual recovery, families seeking more space and nicer appointments are weighing their options. Selling and moving to a larger home might offer a more immediate solution, but many are opting instead to stick around and renovate their current house.

Picking A Couch That's Right For You
Finding the perfect sofa can be a trying experience. Choosing the best fit for your family from thousands of styles and colors and hundreds of manufacturers means that this major purchase can be a major headache.