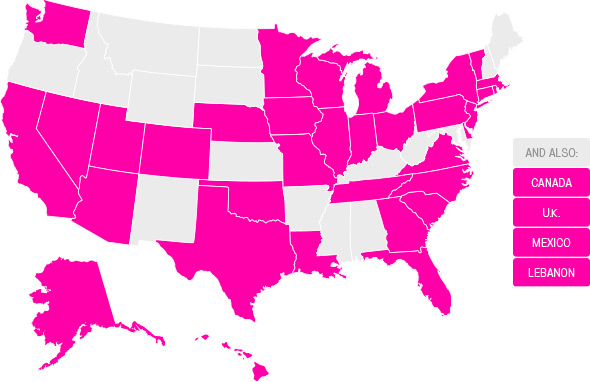 We ship our furniture and products around the country, and can even arrange for international shipments. We're pretty excited to have sent products to customers in 32 U.S. states and four countries. (We're also in hotels, restaurants, designer clothing stores, and a few San Francisco tech startups that you may have heard of...) We aren't everywhere just yet, but keep an eye out for Roger + Chris furniture arriving in a home or business near you.
Click here to see our current lineup of custom furniture.
Updated, 7/15: Indiana and Hawaii can now be added to the map!

Roger Hazard
· Founder · Roger + Chris · Sharon Springs, NY
Roger Hazard is TV's original home stager, as well as designer / producer on the international, Emmy-nominated "SELL THIS HOUSE," "SELL THIS HOUSE: EXTREME," and "MOVE THIS HOUSE." MORE ABOUT Roger Hazard
Hot right now on Roger + Chris

Best Blue Velvet Sofas
We've gathered some of our favorite sofas and armchairs in gorgeous blue velvets, along with design inspiration from around the web.


RELATED POSTS
Living Room Lightbox
What started as a boring living room turned into a Scandinavian-inspired light box with unique paneling, bold industrial furnishings, and a huge DIY floor mirror.


Brighter Bath
Gross no more. We busted down walls, rearranged doors, and filled this bright bathroom with vintage and modern touches.