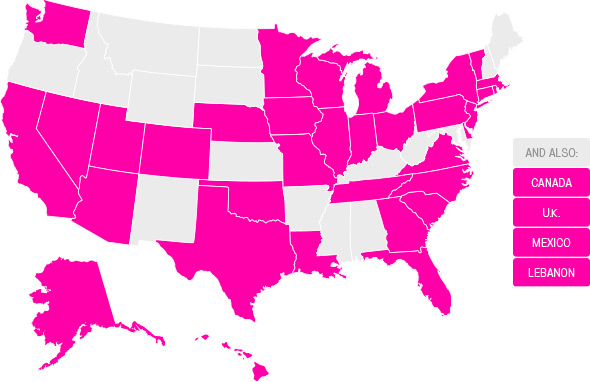 We ship our furniture and products around the country, and can even arrange for international shipments. We're pretty excited to have sent products to customers in 32 U.S. states and four countries. (We're also in hotels, restaurants, designer clothing stores, and a few San Francisco tech startups that you may have heard of...) We aren't everywhere just yet, but keep an eye out for Roger + Chris furniture arriving in a home or business near you.
Click here to see our current lineup of custom furniture.
Updated, 7/15: Indiana and Hawaii can now be added to the map!

Roger Hazard
· Founder · Roger + Chris · Sharon Springs, NY
Roger Hazard is TV's original home stager, as well as designer / producer on the international, Emmy-nominated "SELL THIS HOUSE," "SELL THIS HOUSE: EXTREME," and "MOVE THIS HOUSE." MORE ABOUT Roger Hazard
Hot right now on Roger + Chris
Restyling a Garden House: Paint It Black
A cute, 160-year old Italianate Victorian had the potential to be a stunning garden house - but only after taming the garden, adding style to the porches, and applying some unexpected new colors.

Best Blue Velvet Sofas
We've gathered some of our favorite sofas and armchairs in gorgeous blue velvets, along with design inspiration from around the web.


RELATED POSTS
Stuff That Happened: Carolina Road Trip
We drove for 45 hours and put some 2,700 miles on the car last week as we headed to Charlotte, NC to meet with one of the manufacturing partners of our furniture company. The decision to drive halfway across the United States and back within a work week made plenty of sense before we actually did it. After the fact? Did I mention that I did all the driving? And that it rained most of the drive home? Yeah.


Picking A Couch That's Right For You
Finding the perfect sofa can be a trying experience. Choosing the best fit for your family from thousands of styles and colors and hundreds of manufacturers means that this major purchase can be a major headache.