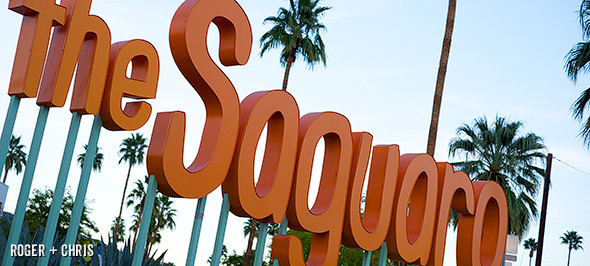 Colors in the Desert
The mountains and desert expanses bordering the Coachella Valley form a serene, if desolate, backdrop for the colorful oasis that has emerged in and around Palm Springs. No area hotel embodies "colorful" quite as boldly as The Saguaro. Wearing hues representing the blooms of native cacti and translating the town's mid-century zest into a thoroughly modern aesthetic, The Saguaro is all about fun in the sun. We had a chance to explore the hotel and thought you might like to come along for the tour.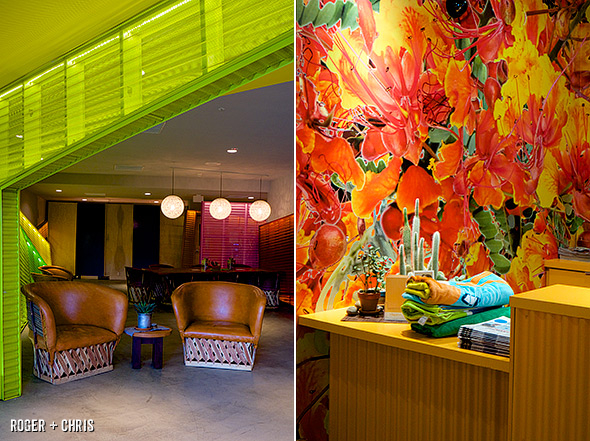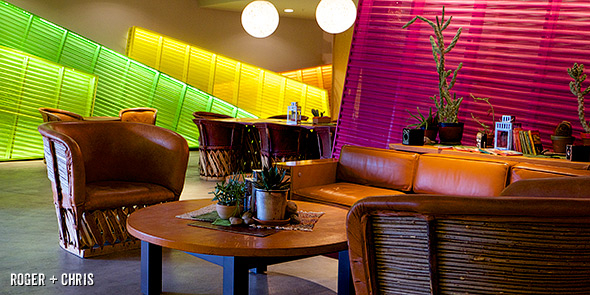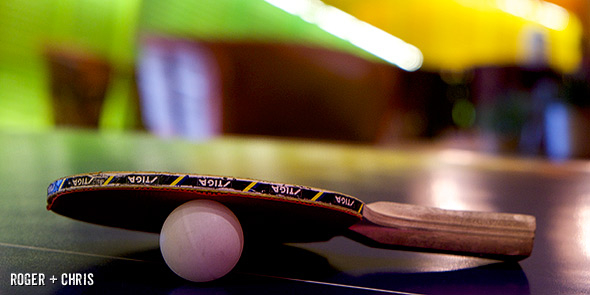 The Saguaro's lobby invites you to slip out of the sun for a few moments to sit down with some vintage pulp fiction or challenge a friend at a game of ping pong. Bamboo furniture swathed in caramel leather is thrown in amongst the sleek metal forms that fill the lobby - this is a modern hotel that doesn't shrug off Palm Springs' classic aesthetic.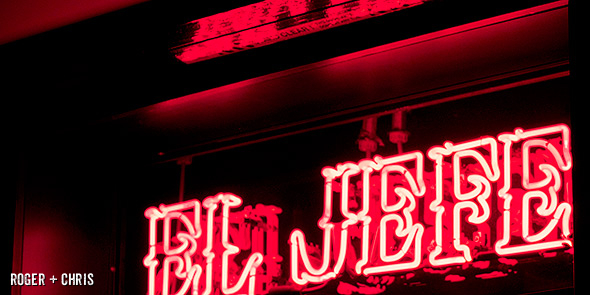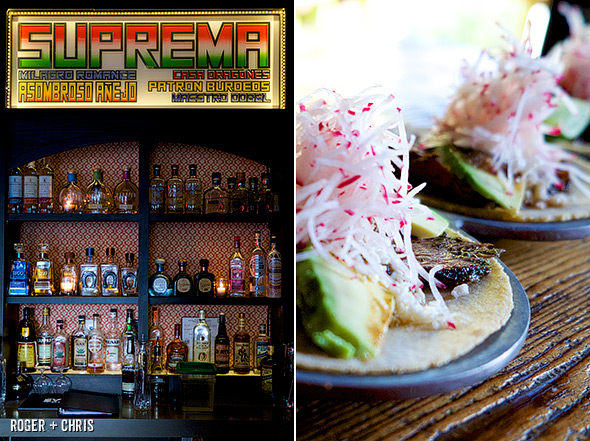 This relaxed space delivers the cuisine of Mexico City. Neon, motorcycle gear, reclaimed wood, and tequila bottles set the mood.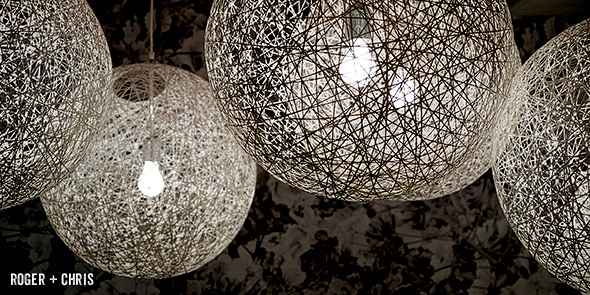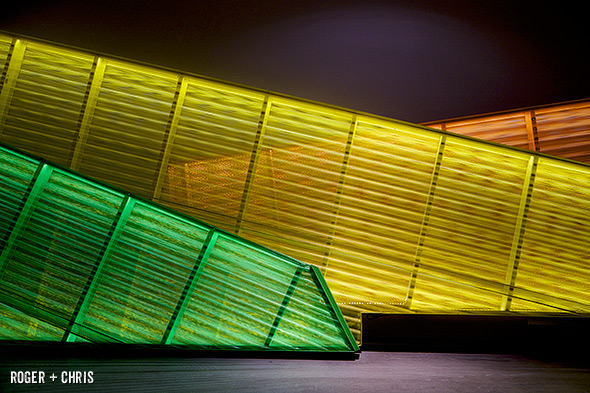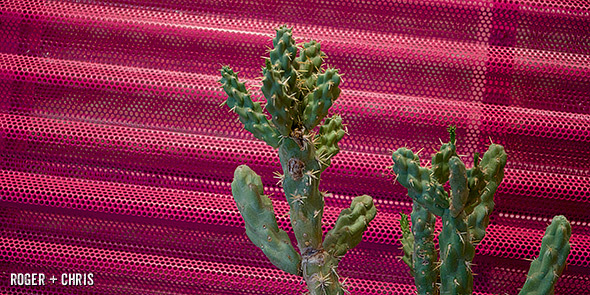 Bold metal forms, bespoke wallpaper composited from dozens of photographs, and delicate pendant lamps conspire to establish an aesthetic that is cooly modern without feeling heartless. The powerful colors are tempered by expansive white walls and neutral concrete floors.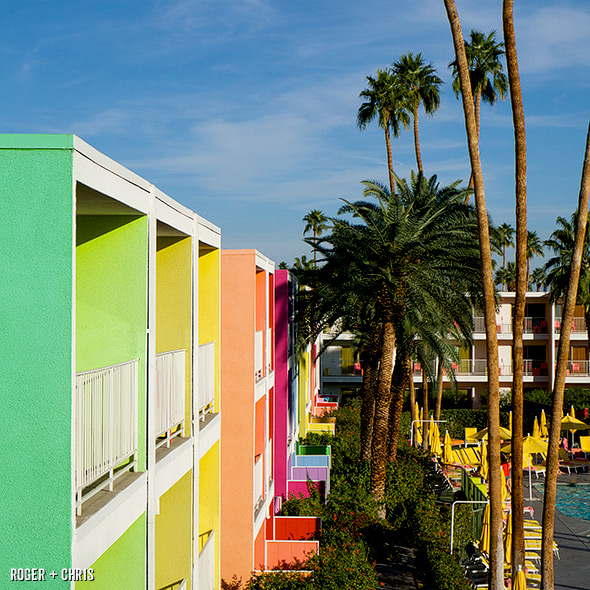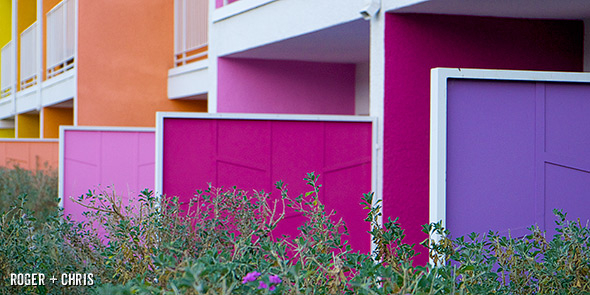 Impossible to put on mute. The strong color carries on into the sun-drenched courtyard pool. The unique color of each room's balcony is pulled into the guest room as the key accent color, mated with bright white walls, relaxed bamboo furniture, and purple carpet.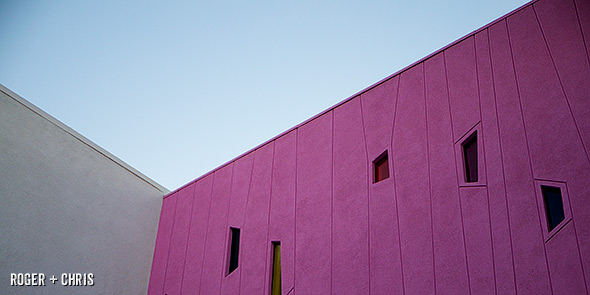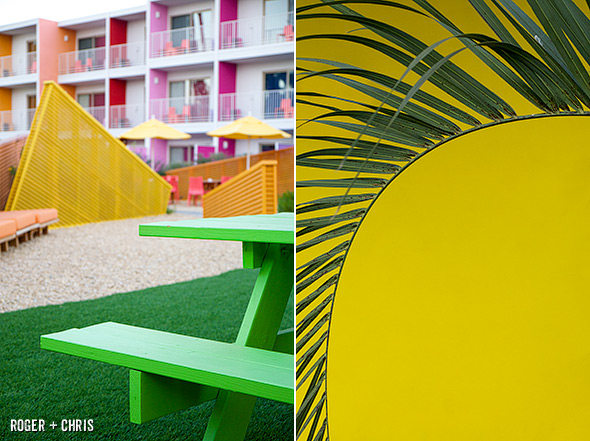 Trapezoidal forms appear in the courtyard and throughout the property, evoking the Palm Springs of the fifties without feeling slavishly retro. These hard-edged shapes are countered with soft, delicate plantings of native species scattered throughout the courtyard.
Thanks to General Manager Steve Rachmat for showing us around the property. For more information about The Saguaro, visit the website or check them out on Tumblr.

Hot right now on Roger + Chris



RELATED POSTS
Some of City's Coolest Spots Provide Patio Inspiration
Today I am going to share some tips for bringing the unique style of Austin's hippest outdoor spaces to your own backyard. With creativity and good planning, you can create an amazing outdoor room that is affordable, low-maintenance and environmentally friendly.

Go Bold or Go Historical with Wallpaper
Wallpaper has been around for centuries - dating back as far as the 1400s - but you would be forgiven for assuming it went extinct sometime around the late 1980s. While wallpaper all but disappeared from mainstream design as homeowners' tastes shifted towards neatly painted walls, paper lived on in corners of the design business.

Kitchen Inspiration Pinboard: Funky City Loft
Lofts in cities like New York and Chicago bring comforts to industrial spaces. Cavernous spaces, huge windows, and great surfaces like old wood floors, brick walls, and exposed-beam ceilings create an environment perfect for fun, funky colors and interesting layouts. Here?s a concept for a wild kitchen tucked into a small space.