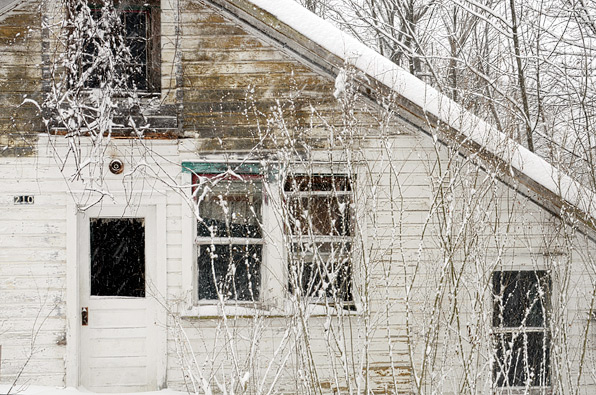 I don't believe in ghosts. This is inconvenient, as I'm surrounded by people who do.
According to a fellow villager, "Every house in Sharon Springs is haunted." I've heard stories about angry murder victim ghosts, angry rabbi ghosts, angry jilted lover ghosts...all of these ghosts seem to be very angry. So they ghost-stomp around the houses and hotels, menacing the living like visiting, temperamental in-laws who don't get the clue to leave.
This is, of course, absurd.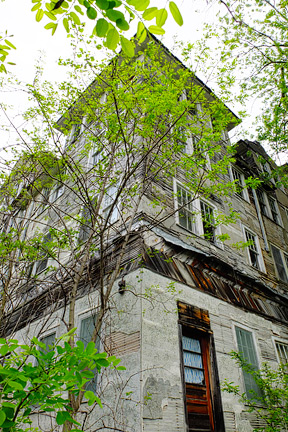 We don't have ghosts in Sharon Springs, but we do have a bunch of houses and buildings constructed over a hundred years ago atop somewhat sketchy foundations. I've yet to find a level floor in this village, let alone a square doorway.
A few days ago, I came downstairs in the morning to find the always-shut basement door wide open. While that was kind of creepy, I'm pretty sure it wasn't a ghost that opened it. I think it was 160 years of a house slouching. That mysterious clanging coming from inside the wall by the kitchen? Not a demon child tapping away to be freed; just an unsecured water pipe. The creaking, squeaking stairway? Definitely not the howls of a ghost-wife scorned; just me stepping down them, because I weigh...you know, I'll go ahead and claim that noise is caused by a ghost.
But, in many ways, we do live in a ghost town. There are dozens of vacant homes, boarding houses, and hotels here. There are hundreds of dusty window panes, through which one can catch a glimpse of a person? a stack of old pillows? or something more paranormal? Rusting cars sit in overgrown yards. Carriage houses contain no carriages, no cars - just junk left behind and the occasional cozy field mouse. Pools sit empty - save for leaves and snow - and tennis courts have gone to seed, their nets long ago decayed.
The village is coming back to life. According to folks who've been here for a decade or more, the resurgence is striking. It can still be a quiet, lonely place. But at its quietest, its loneliest, I can imagine villagers finding some solace in being surrounded by ghosts. Better, perhaps, to imagine a poltergeist wandering the halls of the abandoned hotel next door than no one at all.
Until tomorrow,
Chris
Soundtrack: "Ghostbusters" by Ray Parker, Jr.