Grey House: Renovating a 160-year old Victorian.
Want a peek inside our house before the renovations start? Here's a gallery of photos that captures the home as we were moving in this summer. Every room will be undergoing a major change - with many of them taking on new roles. We'll document every step of the process.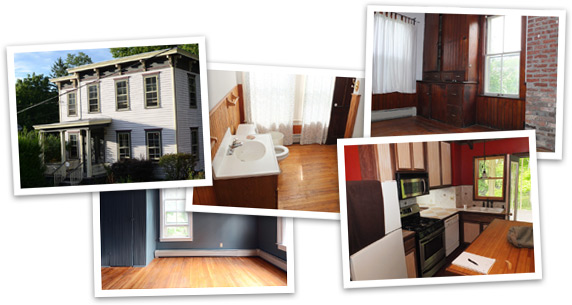 Roger Hazard
· Founder · Roger + Chris · Sharon Springs, NY
Roger Hazard is TV's original home stager, as well as designer / producer on the international, Emmy-nominated "SELL THIS HOUSE," "SELL THIS HOUSE: EXTREME," and "MOVE THIS HOUSE." MORE ABOUT Roger Hazard
Hot right now on Roger + Chris

Restyling a Garden House: Paint It Black
A cute, 160-year old Italianate Victorian had the potential to be a stunning garden house - but only after taming the garden, adding style to the porches, and applying some unexpected new colors.


RELATED POSTS

Block Prints and Thin Mints
We've been hard at work putting together plans for the house. Today, we plowed through a long list of decisions. I think the downstairs is really coming into focus.

Living Room Lightbox
What started as a boring living room turned into a Scandinavian-inspired light box with unique paneling, bold industrial furnishings, and a huge DIY floor mirror.