Kitchens 101: Trends and best practices in kitchen style, layout, and functionality.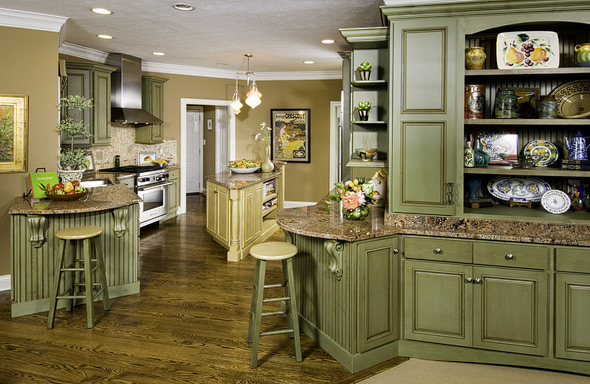 If the Wizard of Oz wanted to renovate the Emerald City's kitchen, this might very well be the outcome.
In a world filled with beige and taupe, sand and putty, I'm always excited to see a homeowner embrace bold color and take their kitchen in a different direction. This kitchen is undeniably bold, and it's fun to see a monochromatic - though not unsophisticated - color palette taken to an extreme. Is this right for every home? No way. Do I think the home owners love having a one-of-a-kind kitchen? You bet.
About That Color...
How could I possibly start deconstructing this kitchen without first mentioning the color? Green walls, green cabinetry, green furniture, vases, and even floors. If the Wizard of Oz wanted to renovate the Emerald City's kitchen, this might very well be the outcome.
While the initial impact is almost overpoweringly monochromatic, a second glace reveals the nuanced use of varying hues to add depth and interest to the space. The wood floors approach olive drab, with a lighter tint running up the walls. The island is rendered in a muted celery green, while the remaining cabinets are finished in moss green and given additional depth with finishing coats of stain. But a few surfaces are left neutral to give us a breather from all of the green. The countertops and back splashes are rendered in appealing but inoffensive hues, while steel appliances paired with white trim and ceilings brighten up the space and stave off claustrophobia.
Committing so fully to a single color can be a risk, but the use of varying hues prevent this kitchen from overwhelming the senses and instead create a sophisticated, rich space.
Flow Challenges
Pass-through kitchens are always tricky. While one side of this kitchen opens into a casual living space, the other side includes several doorways to other sections of the house. Like any kitchen, this layout needs to provide functional work areas for meal prep and cooking. But it also needs to include adequate walking space for traffic flow through the kitchen. To make matters more complicated, this room includes walls at unusual angles. The cabinetry layout makes clever use of the unusual shape to provide enough work and storage space without blocking flow.
The difference between an average kitchen remodel and an outstanding one can often be reduced to the small details that pull a design together and give the room that special something.
Note how the island is shaped like a trapezoid. Without losing much counter space, the angled sides make for more open space between the sink and range. Cabinetry wraps around corners, with additional wall cabinets continuing into the living space. While there isn't enough room for stools around the island, homes have been found for two stools at the entrance to the kitchen. It's amazing how just a small curved overhang can accommodate a stool and work surface.
Repetition and Variation
One of the biggest differences you find in a professionally-designed custom kitchen makes a big impact, even if it's hard to identify. That difference? Custom kitchens can integrate recurring motifs while introducing subtle variations. The difference between an average kitchen remodel and an outstanding one can often be reduced to the small details that pull a design together and give the room that special something.
In this kitchen, a couple of clever touches jump out at me. I appreciate that the trim around the tops of the upper cabinets echoes the design of the room's crown molding. (It's difficult to see, but the upper cabinets near the range also include unique trim work around the bottom.) I love that the bead board used for the base cabinet ends makes an appearance in the open shelving facing the living area. And here's a very subtle but brilliant touch: The scalloped countertop overhang used to create seating areas for the counter stools makes another appearance at the top of the open shelving facing the living area. These small touches help pull the room together and make it obvious that this kitchen was designed with love and care.

Roger Hazard
· Founder · Roger + Chris · Sharon Springs, NY
Roger Hazard is TV's original home stager, as well as designer / producer on the international, Emmy-nominated "SELL THIS HOUSE," "SELL THIS HOUSE: EXTREME," and "MOVE THIS HOUSE." MORE ABOUT Roger Hazard
Hot right now on Roger + Chris
Best Blue Velvet Sofas
We've gathered some of our favorite sofas and armchairs in gorgeous blue velvets, along with design inspiration from around the web.

Restyling a Garden House: Paint It Black
A cute, 160-year old Italianate Victorian had the potential to be a stunning garden house - but only after taming the garden, adding style to the porches, and applying some unexpected new colors.


RELATED POSTS
Deconstructing a Kitchen: Clarksville Bungalow
I tackled this tiny Austin kitchen in the premier episode of my TV show, "Sell This House: Extreme." In just a few days, my team and I completely renovated the kitchen ? as well as the living room, dining area, both bedrooms, and the front yard. While all of the changes we made were important to increasing the value of the home, the kitchen transformation packed the biggest punch, helping boost the asking price by $100,000.

Guidebook, Step Four: Hiring a Kitchen Designer
Step four of the design process focuses on selecting a professional kitchen designer. Hiring a kitchen designer in most cases will be money well spent. Beyond just assisting you through the myriad of decisions related to your remodel, a designer can introduce fashion-forward colors and finishes that will keep your kitchen looking fresh and up-to-date for years to come.

Kitchen Inspiration Pinboard: Funky City Loft
Lofts in cities like New York and Chicago bring comforts to industrial spaces. Cavernous spaces, huge windows, and great surfaces like old wood floors, brick walls, and exposed-beam ceilings create an environment perfect for fun, funky colors and interesting layouts. Here?s a concept for a wild kitchen tucked into a small space.