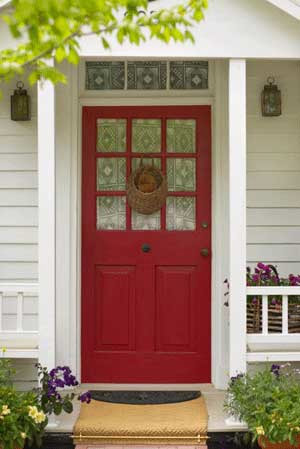 Creating an attractive, welcoming home means more than decorating the interior. Enhancing your homes curb appeal will create a more positive first impression for guests and potential buyers, should you choose to eventually sell your home, and even you as you pull into the driveway. Exterior renovations can become big, expensive projects. Below are a few suggestions for ways to create a more appealing home without making a major investment.
Repaint, restain or replace your front door. As the focal point for the front of any home, your front door deserves to be in great shape. If the door is in good condition and its design complements the style of your home, consider repainting or restaining it.
It's become increasingly popular to use bold colors for front doors. This works well to brighten up the entry, but be sure to select a color that coordinates with other colors used on the exterior. For example, if your home's facade is painted in warm tones, consider colors like a bold red or orange. If the colors are cooler - in the gray or blue families, for example - you may try a bright blue or green.
Trim work around the door should typically stay more subdued, with white working the best at offsetting the stronger color. If you're restaining, remember that wood stains are available in dozens of hues. Using a colored stain - blue gray, for instance - might offer an opportunity to introduce subtle color without losing the texture of stained wood.
Is your door a little worse for the wear or a poor match for the style of your home? Replacing it might not be as inexpensive as a bucket of paint, but the impact can be well worth the extra money. Front doors can be found in hundreds of unique designs at a variety of price points, and are available in an endless array of finishes.
Add sparkle to the entry with new door hardware, a new mailbox or interesting house numbers. I often tell clients that hardware like door knobs, house numbers or mailboxes are like jewelry for your home. You can easily dress up an entry by updating these basic elements - and you don't need to use high end pieces to make an impact. To make your entryway feel more tailored and consistent, select pieces with matching finishes.
Bring emphasis to windows with color or shutters. Did you know you that you can enlarge your house's windows with nothing more than a paintbrush? If you have a light-colored house and want to make the facade's windows appear larger, try painting the window trim black or charcoal. If it suits your home's style, consider adding decorative shutters. While they aren't right for every property, they can add a dose of character and interest. Choose a color that matches the window trim, or select a complementary accent color from the house's palette.
Establish a welcoming feel by cleaning up or adding foundation plantings. An exposed foundation or weedy plantings surrounding your home make it look barren and poorly cared for. Add a variety of flowering perennials and evergreens around your foundation to create a more lush look. Keep it formal with neatly trimmed bushes or opt for a more natural look with a variety of species featuring a range of colors, shapes, and sizes. Remember to keep your plantings neat by pruning them back from windows.
Boost nighttime appeal and security with updated lighting. Are the exterior light fixtures drab or outdated? Replacing porch lights and exterior sconces is relatively inexpensive and easy. Consider experimenting with a fresh style of fixture - more modern or rustic, for example. Don't be afraid to look at higher-end lighting for inspiration. Remember that you can often duplicate the look of expensive fixtures with low-cost versions. Finally, you can easily and inexpensively brighten up your landscaping and facade with yard lights. While hardwired, low-voltage lighting is affordable and relatively easy to install, I suggest starting with solar-powered spot lights. They're extremely easy to move around your yard, permitting you to find the best angles for adding flattering light to your home and landscape. Then, after you've found the ideal positioning, consider installing the more powerful, more permanent wired lights.