Kitchens 101: Trends and best practices in kitchen style, layout, and functionality.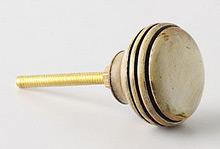 Burnt Horn Knob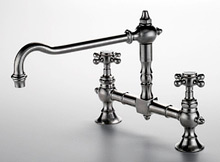 Julia Bridge Two Hole Kitchen Faucet with Cross Handles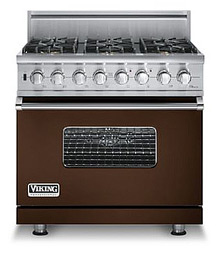 Viking Custom Series 36" Gas Range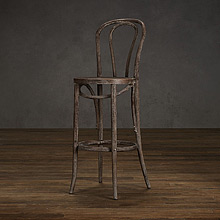 French Café Counter Stool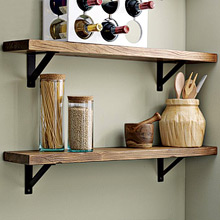 Salvaged Wood Shelf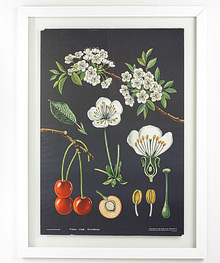 Framed Vintage French Botanical Print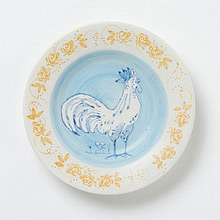 Farmhouse Dinnerware
Cabinetry:
Stafford Door Style in German Chocolate Finish and Stafford Beadboard Door Style in Chalk White Paint
"My take on a 1920's French Country kitchen kicks off with lower cabinetry in delicious German Chocolate, and upper cabinetry in a buttery off-white. The beadboard on the upper cabinets gives us the country feel I want; I balance that with a modern, simple door profile on the lower cabinets to avoid going overboard. I love the depth and texture of dark-stained wood - rich and subtle."
Countertops:
Honed Limestone in "Jerusalem Bone"
"Effectively evoking a period kitchen means referencing historic materials and finishes. In this case, I selected limestone for its natural texture. Pairing lighter countertops with the rich chocolate base cabinets provides visual interest and prevents the space from feeling gloomy. While I love white carrera marble, I felt this kitchen would benefit from a warmer color and subtler marbling. As opposed to polished surfaces, honed countertops have a matte finish and paler, less-saturated color than polished surfaces."
Hardware:
Jeffery Alexander Satin Nickel Cabinet Latch and Burnt Horn Knob
"Both of these pieces of door hardware have a period feel, but in terms of warmth, they're diametrically opposed. The classic cabinet latches have been used for decades in custom-built kitchens and apothecaries, but the satin nickel finish marries well with the modern lines of the lower cabinets. The polished bone knobs add more interest to the painted upper cabinets, and the grooves mirror the cabinet door's beadboard detail."
$9.64 from KnobDepot.com; $8 from Anthropologie
Sink and Faucet:
Whitehaven Short-Apron 36" Farmhouse Sink and Julia Bridge Two Hole Kitchen Faucet with Cross Handles
"I'm a fan of farmhouse (or apron-front) sinks, but I'm particularly taken with Kohler's wide version with a slightly shorter apron. It reads slightly more modern to me, and maintains the same depth as a standard sink despite the appearance of being shallower. Kudos to Kohler for offering it in a range of 18 great shades. Because the farmhouse sink does look a bit more modern, I can get away with using a very traditional bridge faucet, complete with cross handles. It's pulled right out of 1920's French country, and will be a focal point in this kitchen."
$1090 from Kohler; $1333 from Waterworks
Range:
Viking Custom Series 36" Gas Range
"It isn't going to make me any friends for saying this, but I think we're approaching the end of the stainless steel appliance trend. I'm ready to see the return of interesting colors and customization, and this professional-grade range brings it. The mixture of a bold color and stainless is sophisticated and high-end. If the chocolate brown isn't up your alley, there are 23 other colors from which to choose. And, yes, that includes classic stainless steel."
$4,999 from Viking
Lighting:
Industrial Pulley Double Pendant
"Ideal for lighting over an island, this detailed antique reproduction is adjustable. Move it up to light the entire room, or down to focus light on your work surface."
$289 from Restoration Hardware
Furniture:
French Café Counter Stool
"Restoration Hardware calls this their 'French Café Stool,' but the design is actually drawn from the work of German-Austrian cabinet maker Michael Thonet. Thonet invented a method of bending solid pieces of wood into curves using steam, creating the graceful, elegant chairs that wowed audiences at World's Fairs in London and Paris."
$129 from Restoration Hardware
Salvaged Wood Shelf
"I like breaking up a row of upper cabinets with some open shelving. Just a few of these shelves will prevent the room from looking 'top heavy' without sacrificing all practicality. These shelves combine rustic salvaged wood with clean modern brackets. Don't overload them with accessories; a little bit goes a long way."
$59 from West Elm
Textiles:
Stockholm Woven Cotton Rug
"The thin stripes in this rug will visually lengthen the room and pull together the various hues used throughout the kitchen. The rug is double-sided, extending its lifespan, and can be hand washed or - for larger versions - professionally cleaned inexpensively."
$208 from Dash & Albert
Cameron Cotton Cordless Roman Shade in Seaglass
"This casual, clean roman shade in a pale blue solid keeps the space from feeling too fussy. If you're nervous about introducing stronger colors into your kitchen, window treatments are a relatively inexpensive - and easily changeable - way to do it."
$179 from Pottery Barn
Art and Accessories:
Framed Vintage French Botanical Print
"I love botanicals, and this one-of-a-kind print is truly special. Doesn't this just put you in the mood to bake - or at least eat - cherry pie?"
$1450 from South of Market
Farmhouse Dinnerware
"This collection of dinnerware features whimsical farmyard characters inspired by illustrations in children's books."
$28 from Terrain
Out To Pasture Hook
"This vintage-look, cast iron hook is great place to hang your hat - or apron."
$12 from Terrain

Roger Hazard
· Founder · Roger + Chris · Sharon Springs, NY
Roger Hazard is TV's original home stager, as well as designer / producer on the international, Emmy-nominated "SELL THIS HOUSE," "SELL THIS HOUSE: EXTREME," and "MOVE THIS HOUSE." MORE ABOUT Roger Hazard
Hot right now on Roger + Chris
Restyling a Garden House: Paint It Black
A cute, 160-year old Italianate Victorian had the potential to be a stunning garden house - but only after taming the garden, adding style to the porches, and applying some unexpected new colors.



RELATED POSTS
Kitchen Inspiration Pinboard: Happy Modern
Modern spaces are sleek, sexy, and dramatic. But they can also be sterile and devoid of personality. In this inspiration pinboard, I introduce playful colors and lots of bright surfaces to keep the kitchen feeling friendly and happy.

Guidebook, Step Three: Identifying a Style
Step three of the design process focuses on identifying a kitchen style. Whether you're working with an interior designer or taking on the project yourself, you will need to spend some time researching your options in order to choose the look that works best for your home.

Guidebook, Step Four: Hiring a Kitchen Designer
Step four of the design process focuses on selecting a professional kitchen designer. Hiring a kitchen designer in most cases will be money well spent. Beyond just assisting you through the myriad of decisions related to your remodel, a designer can introduce fashion-forward colors and finishes that will keep your kitchen looking fresh and up-to-date for years to come.