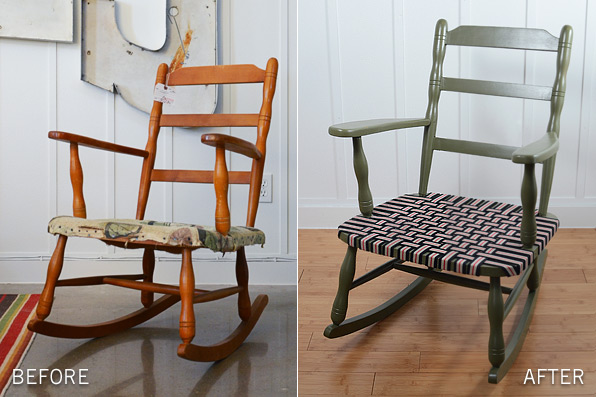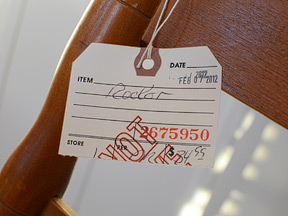 It's easy to turn a $20 thrift store find into a great accent chair with some paint, belt webbing, and a staple gun. Read on for simple instructions.
I stumbled upon this simple rocking chair at the back of a Salvation Army shop a few weeks ago. It was dusty, scuffed up, and had a sagging, dirty seat - not the sort of piece that could be put to use as-is. This store, like many thrift shops, drops the prices on their furniture after it has been in the shop for more than two weeks. So, while it had been priced at $34.95 originally, I only paid $19.95.
After getting the chair home and taking a closer look, it became clear that it needed more than just a new seat. The webbing beneath the seat fabric was sagging and decaying. The wood finish had numerous scuffs and scratches, and was definitely looking worse for the wear. We often keep vintage pieces in their natural, distressed condition, but this rocker was not one of those pieces.

I wanted the refinished rocker to have a fun, mountain camp feel. To start, I pulled off the seat fabric, padding, and supportive webbing. The fabric was haphazardly nailed down with dozens of carpet tacks, so it took a little bit of work to remove everything.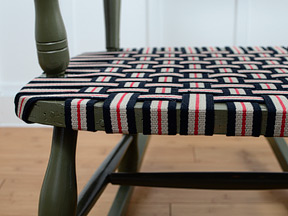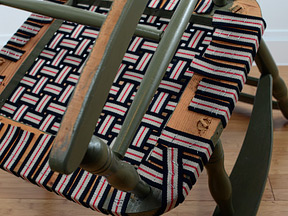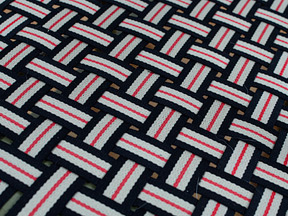 After removing the seat and cleaning up the resulting mess, I was left with just the wood frame. I had decided to paint the chair, so I lightly sanded all of the surfaces with fine grit sandpaper. Sanding may not sound necessary, but it is a critical step in getting complete paint coverage and will reduce the number of paint coats you need. Be sure to dust off all surfaces after sanding.
For paint, I selected Valspar's "City Arboretum" (6006-4C) in semi-gloss enamel. The semi-gloss finish gives the chair a little bit of sheen without looking "wet" like a full gloss finish would, and I chose enamel for a more durable finish that will better resist chipping and scratching. For this small project, the smallest container was more than enough paint. I used a disposable sponge brush to paint the frame in two coats with a few final touchups.
We wanted something fun and graphic for the seat. I thought that a woven seat would feel equal parts "camp chair" and "Risom Chair." Roger and I picked out a black, tan, and red striped cotton belt webbing that would make an interesting graphic pattern when woven. We found the belt webbing at Jo-Ann Fabric Store in the sewing section, and used about 15 yards.
I experimented with a couple of different methods for fastening the webbing. While small nails were somewhat effective, staples were significantly faster and easier. A general purpose staple gun will work, but I strongly recommend using an upholstery stapler for best results. I was liberal with the use of staples, but I would rather overdo it than have straps pull out unexpectedly.
Weaving is pretty simple - over, under, over, under - but I also wanted to space out the straps a bit to allow the floor to show through. To get the spacing even, I recommend fastening all of the straps in one direction first. I started with the rows leading front to back, carefully spacing them out as I stapled them in place on the bottom of the seat frame. For the rows running side to side, I cut strands and wove them between the front-to-back rows, and then played with the spacing until they were spread evenly across the space, forming square openings. Then, I flipped the chair upside down and stapled these into place as well.
With only a little money and just a few hours of time, this rocking chair got a new lease on life. I'm really happy with the result. What do you think? Let me know below.