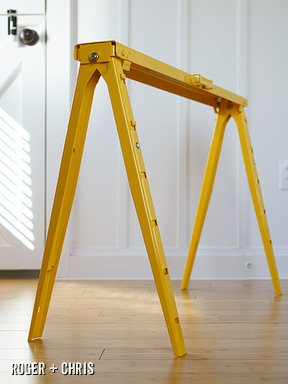 On one hand, a sturdy sawhorse. On the other, a stylish table leg.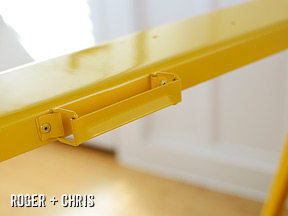 The sawhorse includes a metal handle that adds functionality as well as interest.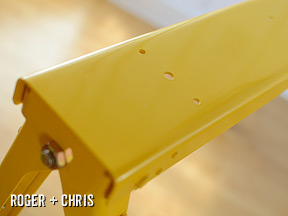 The pre-drilled holes make it easy to permanently mount a tabletop.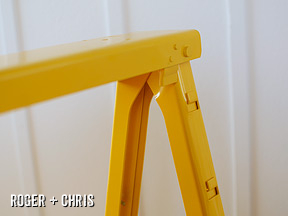 All-metal construction and bright yellow paint is reminiscent of more expensive modern tables.
I was scrounging around the hardware store last night, looking for a pair of sawhorses for woodworking projects, when I stumbled upon these Crawford 38" adjustable folding sawhorses. They're solid steel, painted in school bus yellow, and can be adjusted from 25 to 34" high. Because of their heavy duty construction, a pair of them supports up to 2,400 pounds. All this for under $30.
I picked up a pair for my project, but later realized that these would make a fantastic set of legs for a home office desk. The all-metal construction and bright yellow paint is reminiscent of more expensive modern tables.
Pair them with a wood desktop to create a fun, modern work surface. For extra stability, the tops of the sawhorses are predrilled to make it easy to permanently attach a desktop. And because the height is adjustable, they would be a great option for a desk in a kid's room.

Hot right now on Roger + Chris
Restyling a Garden House: Paint It Black
A cute, 160-year old Italianate Victorian had the potential to be a stunning garden house - but only after taming the garden, adding style to the porches, and applying some unexpected new colors.


How to Clean Velvet Furniture
Velvet fabric can be a bit trickier to clean than other fabrics because, in addition to removing the stain, you must take care to avoid "crushing" the nap of the fiber. Here are some tips to help you successfully remove stains without damaging your beautiful furniture.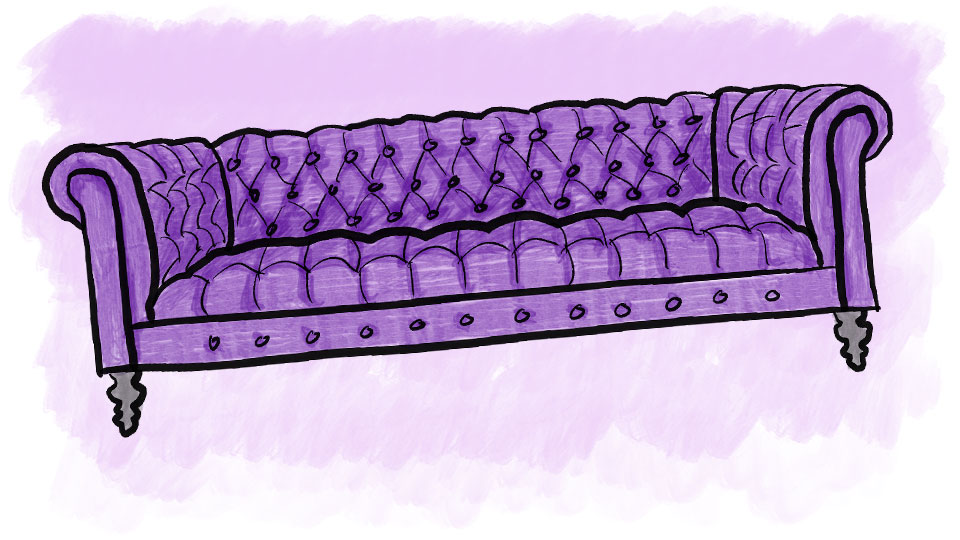 RELATED POSTS
Overcome Hurdles To Creating A Beautiful Home
Applying style from our fantasy house to our actual residence with the limitations presented by our budget, practical needs and the structure of the house itself can be a source of frustration.

A Modern Bistro In A Historic Village
Design inspiration comes from many sources. We love the style of 204 Main Bar & Bistro, which recently opened in the historic spa village of Sharon Springs, NY.