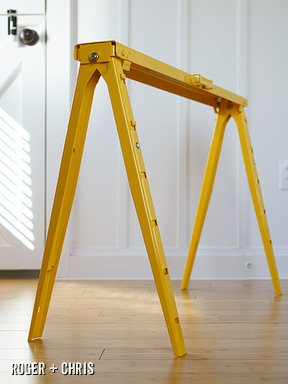 On one hand, a sturdy sawhorse. On the other, a stylish table leg.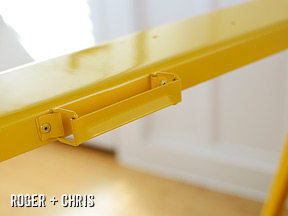 The sawhorse includes a metal handle that adds functionality as well as interest.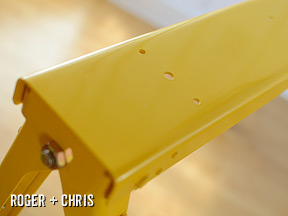 The pre-drilled holes make it easy to permanently mount a tabletop.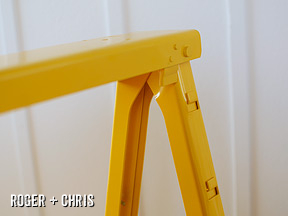 All-metal construction and bright yellow paint is reminiscent of more expensive modern tables.
I was scrounging around the hardware store last night, looking for a pair of sawhorses for woodworking projects, when I stumbled upon these Crawford 38" adjustable folding sawhorses. They're solid steel, painted in school bus yellow, and can be adjusted from 25 to 34" high. Because of their heavy duty construction, a pair of them supports up to 2,400 pounds. All this for under $30.
I picked up a pair for my project, but later realized that these would make a fantastic set of legs for a home office desk. The all-metal construction and bright yellow paint is reminiscent of more expensive modern tables.
Pair them with a wood desktop to create a fun, modern work surface. For extra stability, the tops of the sawhorses are predrilled to make it easy to permanently attach a desktop. And because the height is adjustable, they would be a great option for a desk in a kid's room.

Hot right now on Roger + Chris



RELATED POSTS
Guidebook, Step Two: Defining the Project
After carefully considering how the layout, style, and purpose of your kitchen fits with the rest of the house, it's time to define your kitchen renovation project by assisting your unique priorities, identifying the spaces that will be impacted by the renovation, seeking opportunities to optimize your budget, and applying the information you gleaned from Step One.


Creating Cooler Kids' Rooms
Decorating your child's bedroom is no easy task. While it can begin as an opportunity for self-expression for your son or daughter, the project can quickly grow into a conflict between fun and function. We transformed two bedrooms in two days with CertaPro painters and some simple DIY projects. Here are some guidelines for creating a fantastic-looking bedroom that meets your child's needs, and the specific touches we added to these two rooms.