The Modern Farmhouse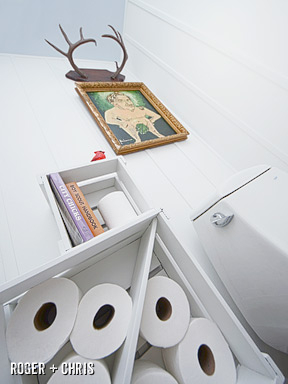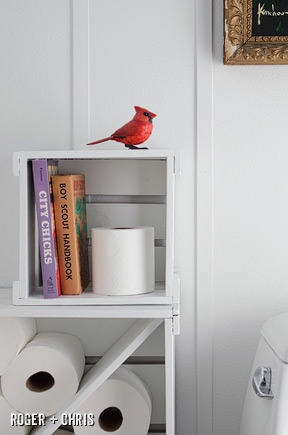 We painted wood crates white and mounted them to the wall to store toilet paper and accessories in this small bathroom.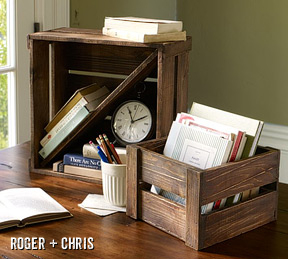 We found these small wood crates at Pottery Barn, but many similar boxes - both new and vintage - exist elsewhere.
Looking for a way to add whimsy, style, and functionality to a small bathroom?
We skipped the generic toilet paper holder and instead created a unique open shelf for rolls and other items in our powder room.
The starting point was with two small rustic wood storage crates from Pottery Barn. You could find similar wood crates at a flea market, or even fabricate your own out with a few pieces of wood and some time. The crates were originally dark brown; we brightened them up to complement our bathroom's crisp white theme with white spray paint. Both of these crates are mounted to the wall studs using wood screws.
In this small bathroom with minimal storage, the crates provide surfaces for a variety of items. Because this bathroom is frequently used by guests, it's nice to have the toilet paper rolls out in plain sight so they don't have to dig through the cabinets to find them if needed.
Have you created shelving out of repurposed items? Share it in the comments below!

Hot right now on Roger + Chris
Restyling a Garden House: Paint It Black
A cute, 160-year old Italianate Victorian had the potential to be a stunning garden house - but only after taming the garden, adding style to the porches, and applying some unexpected new colors.



RELATED POSTS
Achieve Front Yard Privacy
Whether you're trying to expand your precious outdoor living space, block unsightly neighboring yards, or enhance security for your family, here are three methods for boosting front yard privacy.