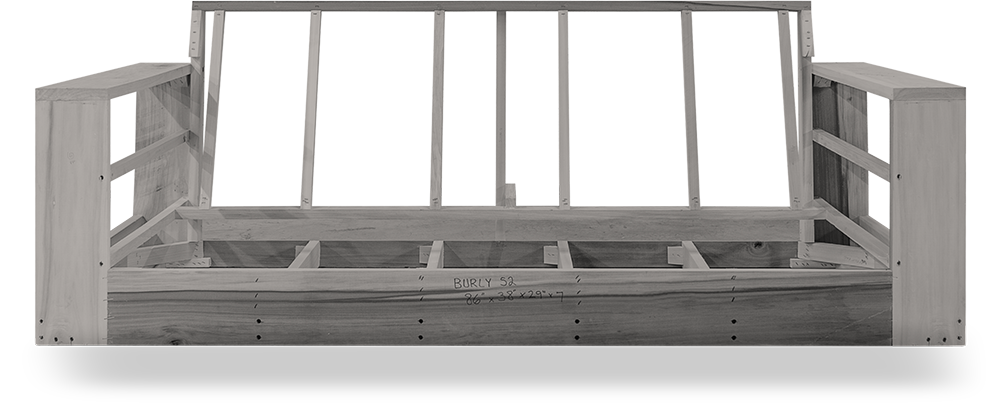 This isn't the easy way to build furniture.
Roger + Chris is unique in that we build our own sofas and frames. Nearly every other brand you know — seriously — passes at least a portion of that work off to a contract manufacturer. Outsourced, offshored, out of their control.
We think that stinks. Owning and running our factories is the only way we can confidently build the best possible sofa for our clients.
You benefit, with a sofa that is...

more customizable than those from any other major manufacturer
higher quality and more durable than our competition
assembled with reduced exposure to unwanted chemicals
built by craftspeople who are well-paid with safe working conditions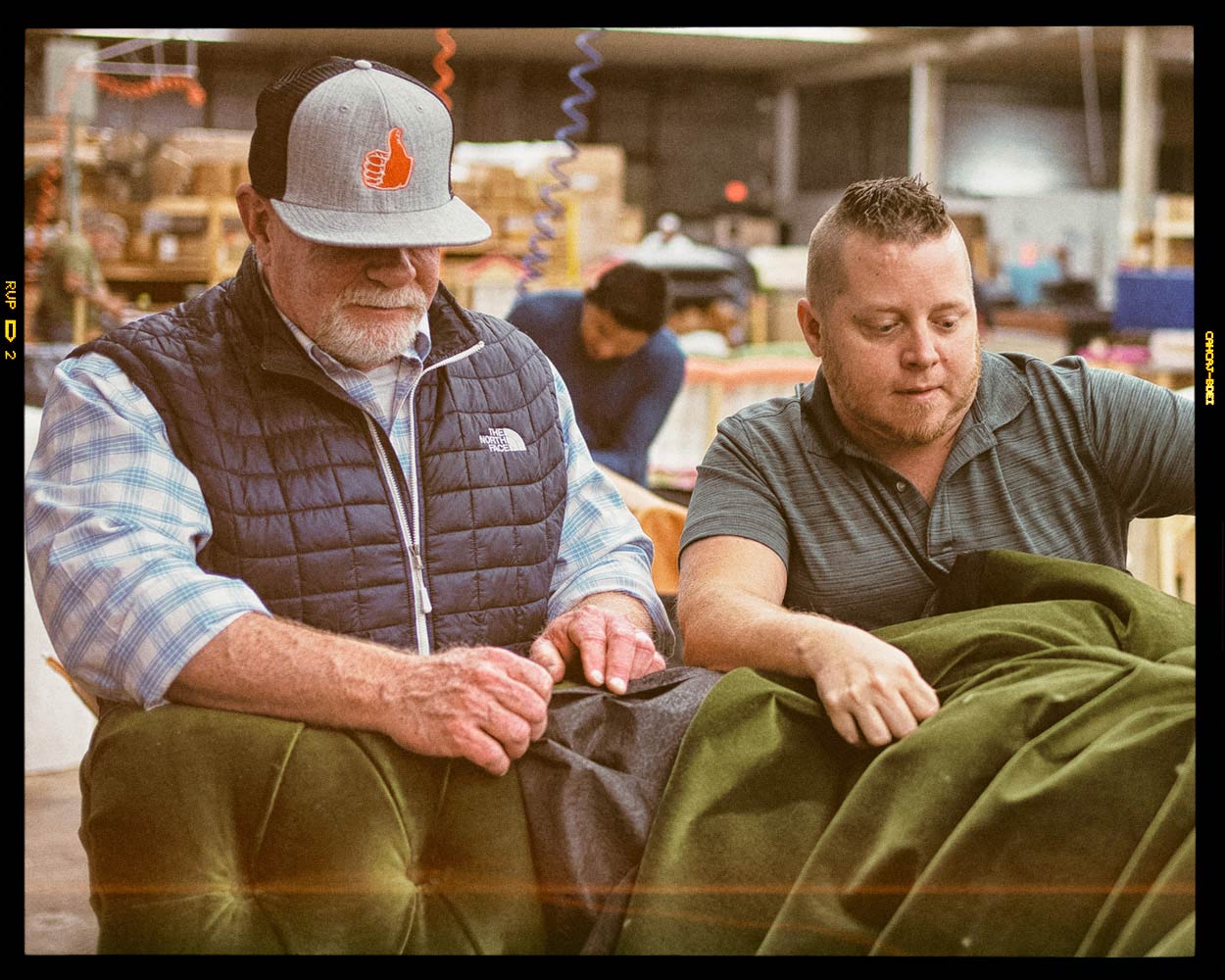 Our Capabilities
More Options
Dozens of styles, hundreds of sizes, thousands of colors, and more customization options than any other manufacturer. We did the math — our furniture can be customized into over 10,000,000 combinations.
More Attention
Each piece is built one at a time, just for you. This ensures you get exactly the sofa you — and your family — need. No bulk manufacturing. No one-size-fits-none. No need to settle.
More Destinations
We've shipped our furniture to six continents. (Sorry, Antarctica.) We're in homes from coast to coast, many of the world's largest corporations, restaurants, hotels, AirBNBs, RVs, and even a boat or two.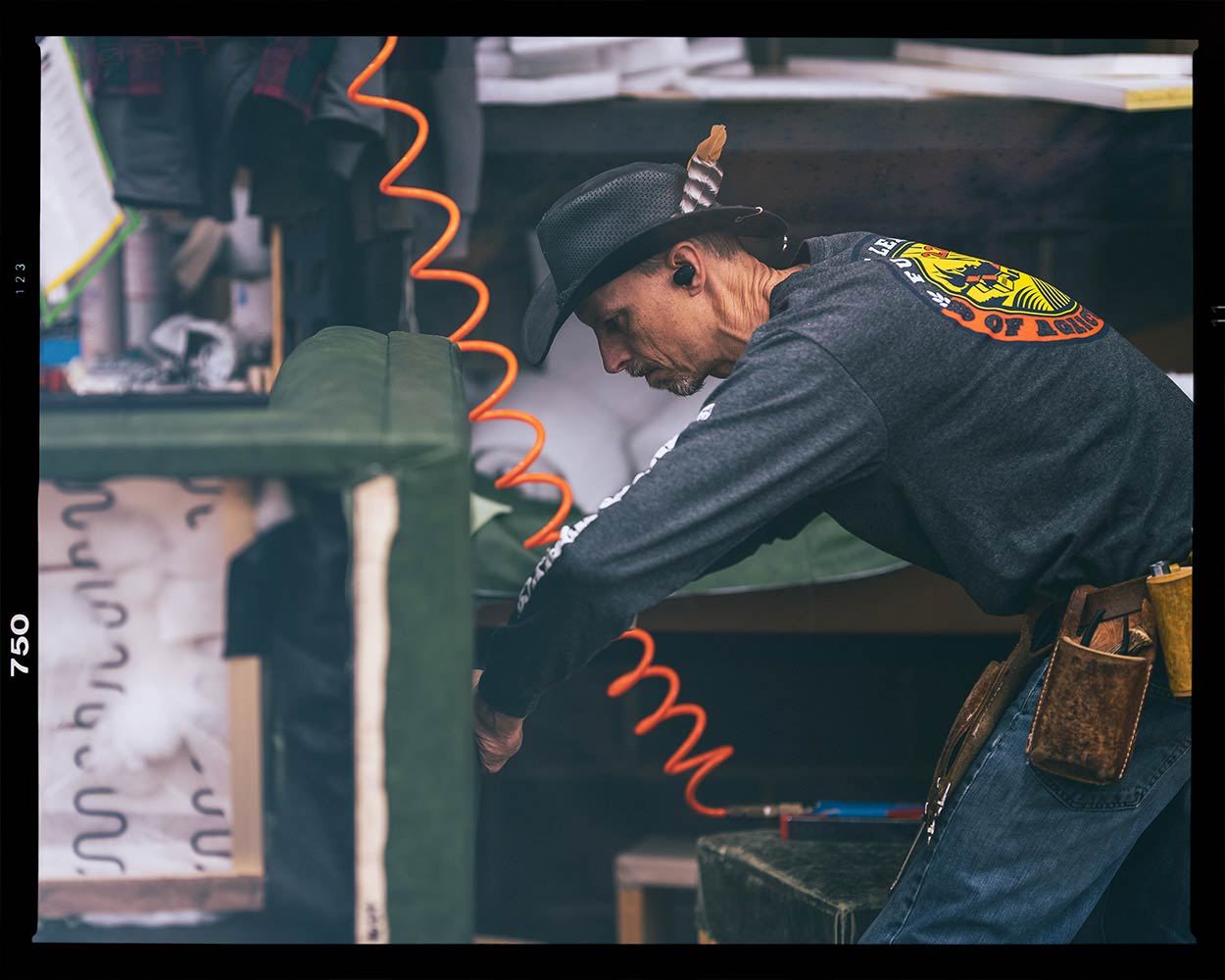 Our Facilities
We're Big
Most furniture brands don't build their own furniture. Almost none of them build their own frames. We do both, in our two factories with 45,000 sqft of combined production space. There's a lot of sawdust.
We're American
Plenty of companies mislead by mentioning that their pieces are "designed in the USA" or "assembled in the USA." How cute. Our furniture is made from scratch in Hickory, North Carolina, USA.
We're Busy
We attach about 130,000 nail heads every year. Hand-tie approximately 15,000 tuft buttons every year. Cut, sew, and upholster tens of thousands of square feet of leather and thousands of yards of fabric every year.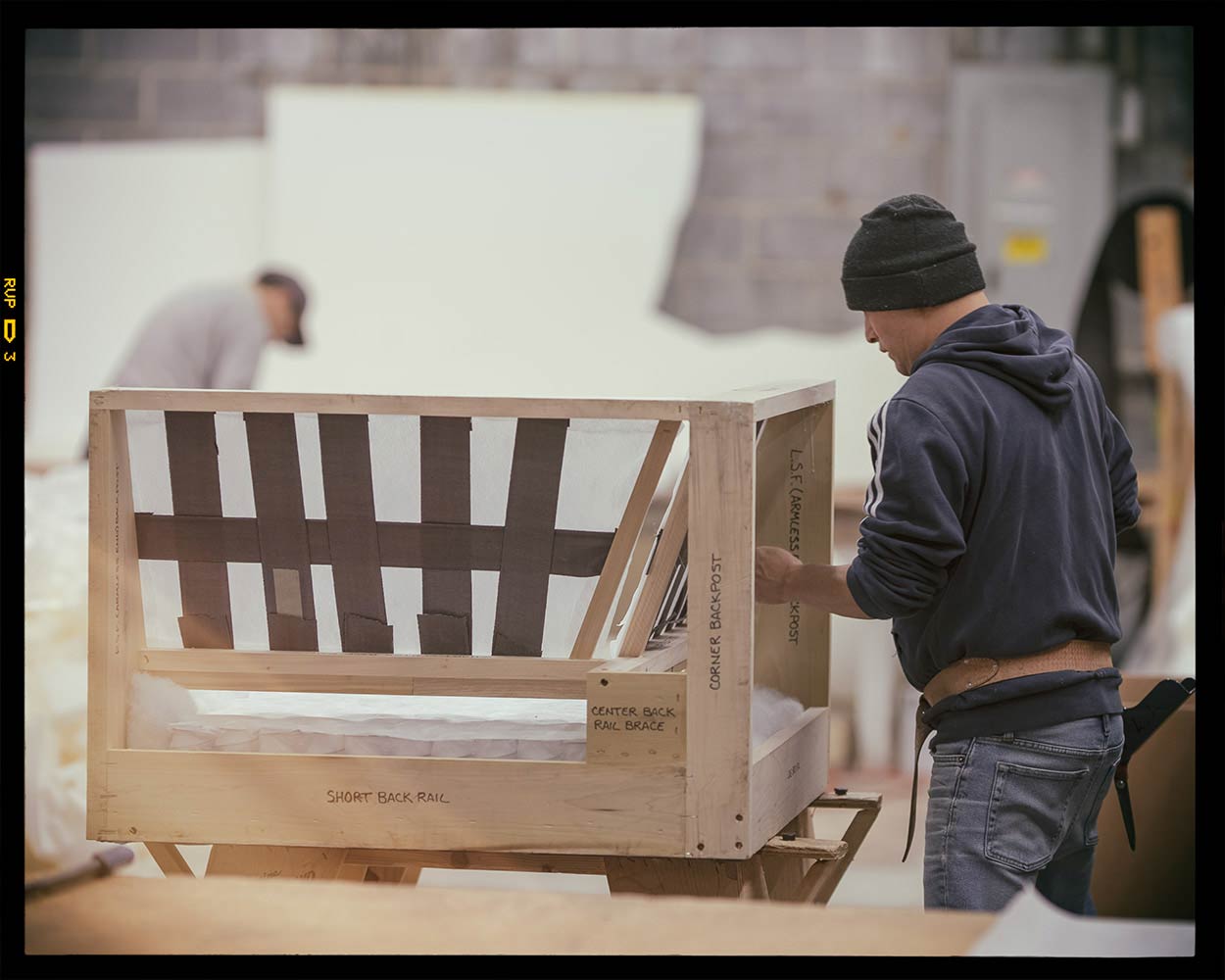 Our Team
Built By Experience
Our team boasts hundreds of combined years' experience in design, carpentry, upholstery, and factory management. Our depth of knowledge results in better designs, better construction, and better guidance for our customers.
Built By Education
Our furniture is challenging to build. To ensure they have the advanced upholstery skills required to work on our furniture, team members apprentice with us for up to three times as long as with other factories.
Built By Family
Plenty of companies describe themselves as "a family," but that means more to us. Here, you'll find spouses, siblings, cousins, parents, and (adult) children working together. We're proud to be a strongly interconnected crew.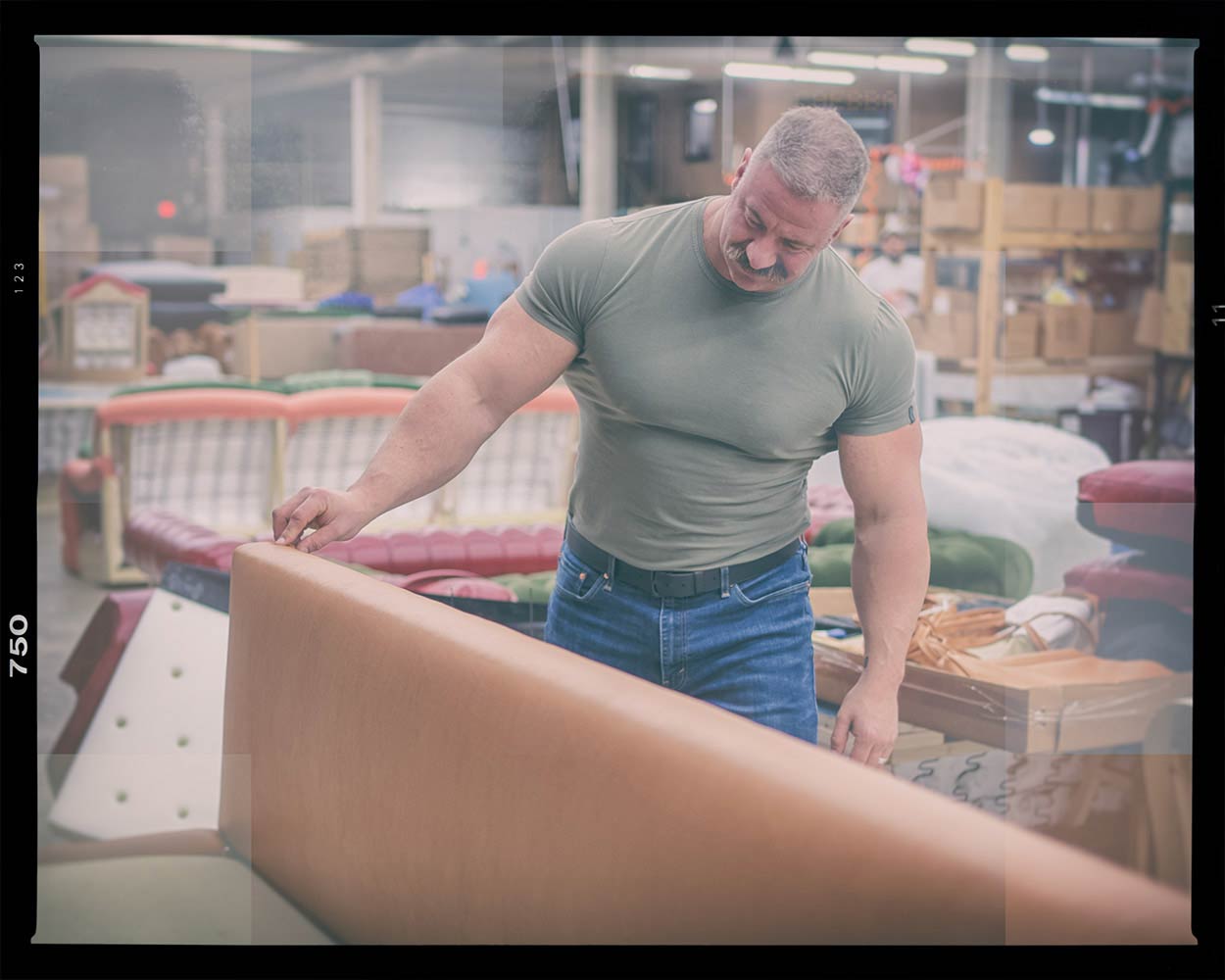 Our Company
Still Here
We launched in 2011, making us one of the nation's first online-only furniture companies. We've seen plenty brands come and go, and our endurance is a testament to the quality and uniqueness of our product.
Still Growing
Growth is tricky for any business. Too little, and you stagnate. Too much, and you crumble. Our goal is a strong, but sustainable growth rate. We've achieved that, with healthy, manageable growth.
Still Independent
We're a fully self-funded business. No outside investors. No venture capitalists. No need to cheapen our products to appease a board of directors. No bulls**t. (Sorry for cursing, Mom.)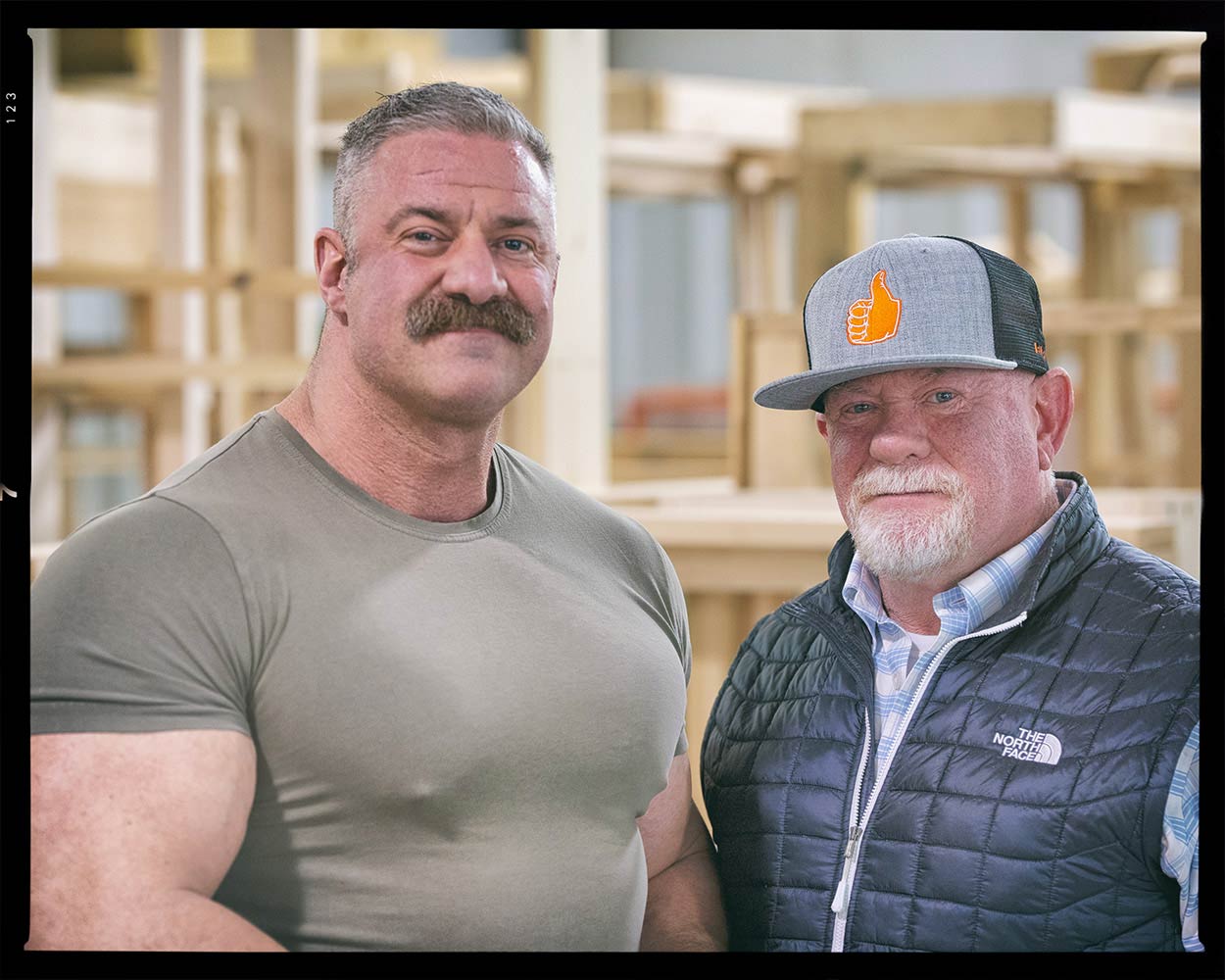 About Roger + Chris (The Humans)
Roger Hazard, a native Texan, grew up amongst Houston's oil money and colorful socialites. After attending Texas A&M University and its Corps of Cadets, he started a design and renovation business. The growth of his business led him to New York City, where he provided design services to — among others — heiresses, entertainers, and retired supermodels. (Not Naomi Campbell.)
A television producer learned about Roger's bold style, fast pace, and imposing physical presence, and proceeded to build a show around him. Soon after, "Sell This House" premiered on A&E featuring Roger. It was the first real estate-related show on U.S. television, the only staging show to be nominated for an Emmy, and continued for nine seasons and 200 episodes. Roger also starred in "Move This House" and "Sell This House: Extreme." He has been featured in newspapers and magazines including Time, Newsweek, The New York Times, The Wall Street Journal, USA TODAY, TV Guide, Entertainment Weekly, and InStyle. His work on television is viewed around the globe, and he has made television appearances on CBS, ABC, and NBC.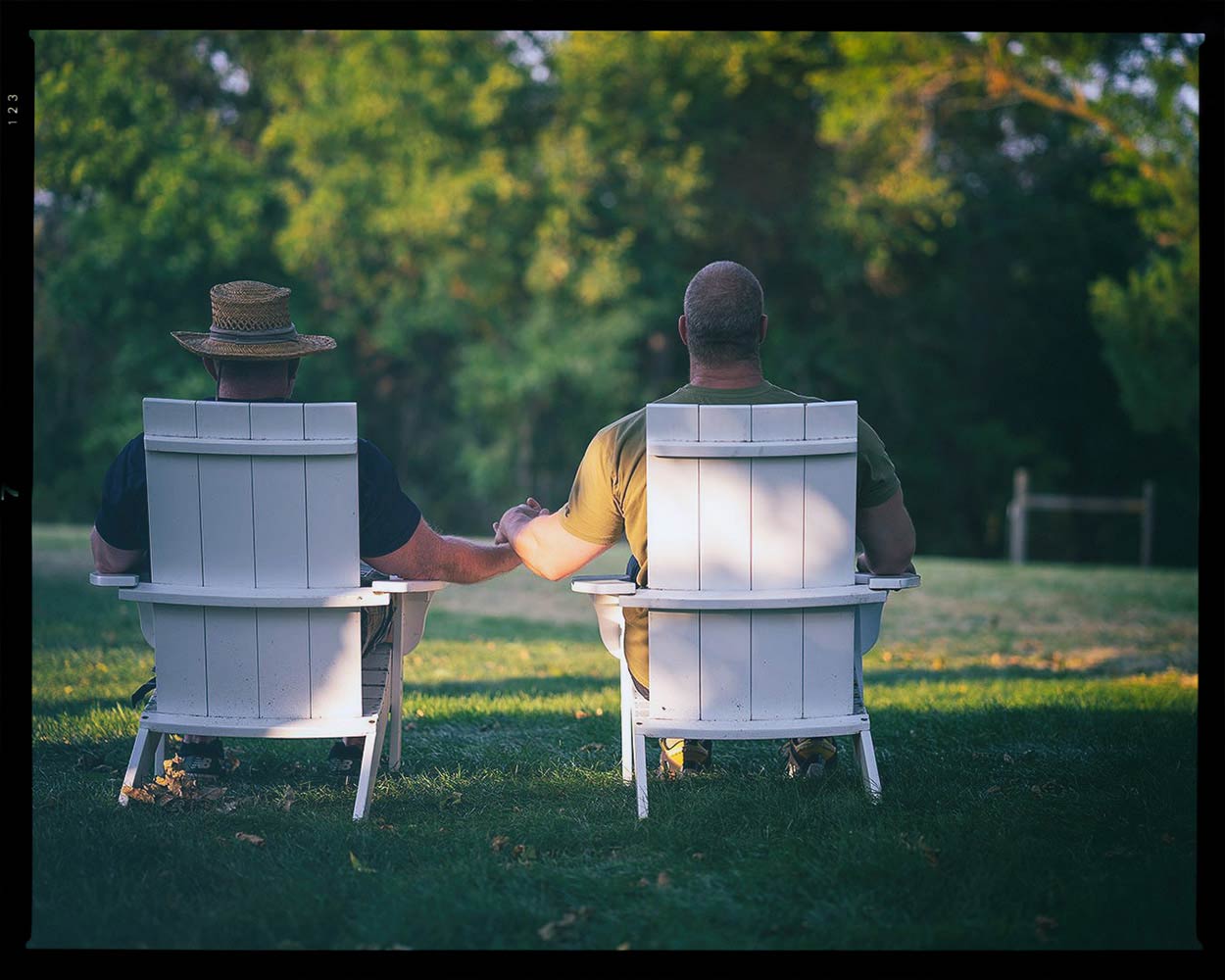 After living in NYC, LA, Seattle, Atlanta, and abroad — and a decade of non-stop travel for work — Roger decided to return to his native Texas to be closer to his family, good BBQ, and pleasant 110°F days.
Chris Stout-Hazard — a Nebraska transplant raised by a dental professor father and a novelist mother he describes as a "goth version of Martha Stewart" — had been a C-level technology executive in several financial companies and had relocated to Austin to become a partner in a startup business. As a web pioneer, he created technology relied upon by hundreds of thousands of users. As a designer and marketer, he established multiple young companies as national-level brands. As the author of this website, he is the one to blame for all grammatical errors.
Shortly after arriving in Austin, Roger met Chris and all hell broke loose.
They got married in Iowa in 2011, surrounded by their families. As a newlywed couple, Roger and Chris quickly came to the realization that they wanted to reinvent themselves. Despite the continued success of his television career and the renewal of his new show, Roger decided it was time to pursue more challenging projects and walked away from TV. Chris had grown frustrated with the stodginess of the financial industry and was seeking an outlet for his creative side, so he surrendered his ownership of the financial company to his former partners. Together, they decided to start fresh with Roger + Chris — building something from scratch that showcased their talents and was — well, fun!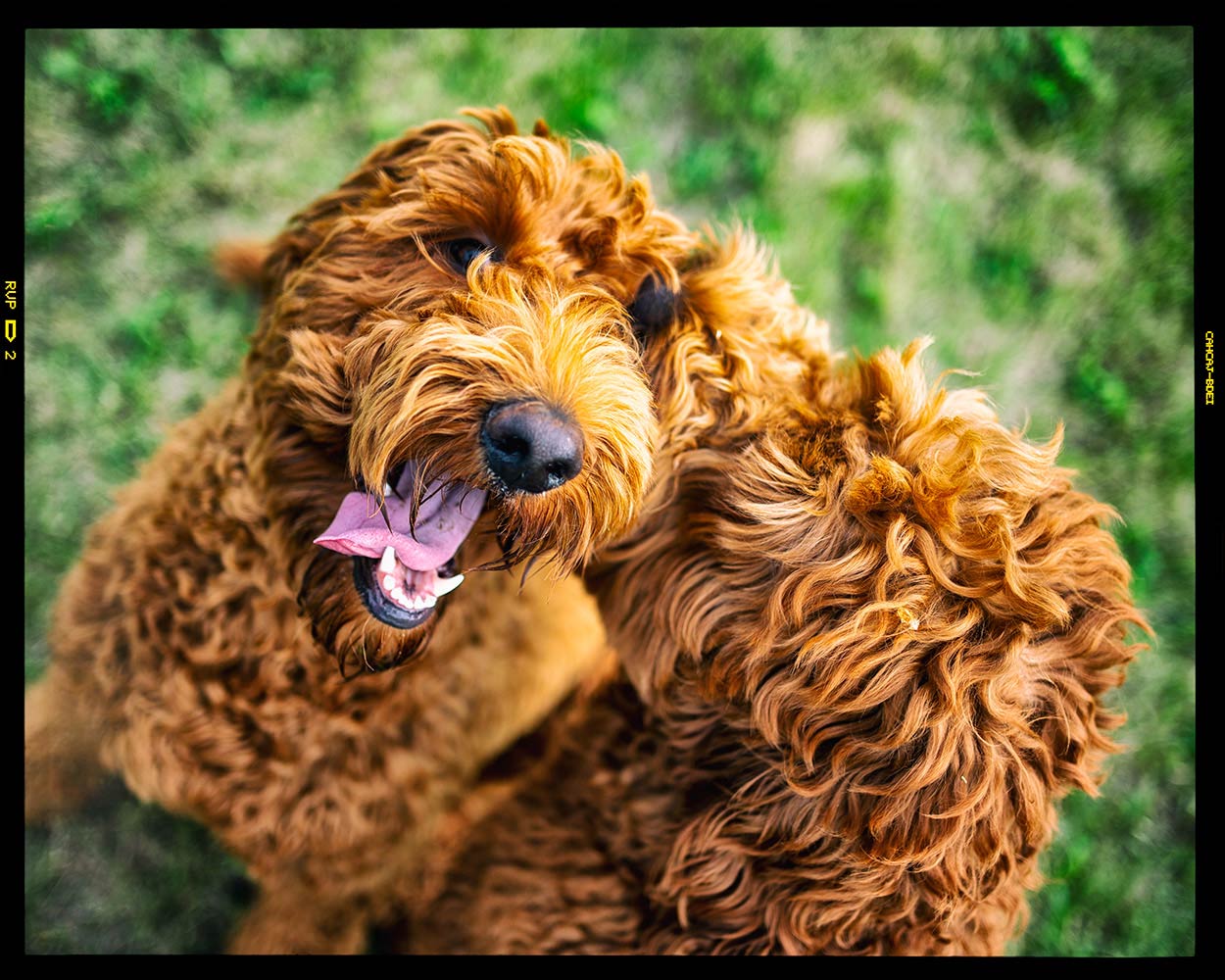 Together, Roger and Chris have designed countless furniture profiles for their brand and others, dabbled in the creation of home decor as varied as lighting, wallpaper, kitchen cabinets, and case goods, undertaken dozens of home and business renovations for themselves and clients, and created web series, podcasts, ebooks, and widely-published articles about home design and renovation.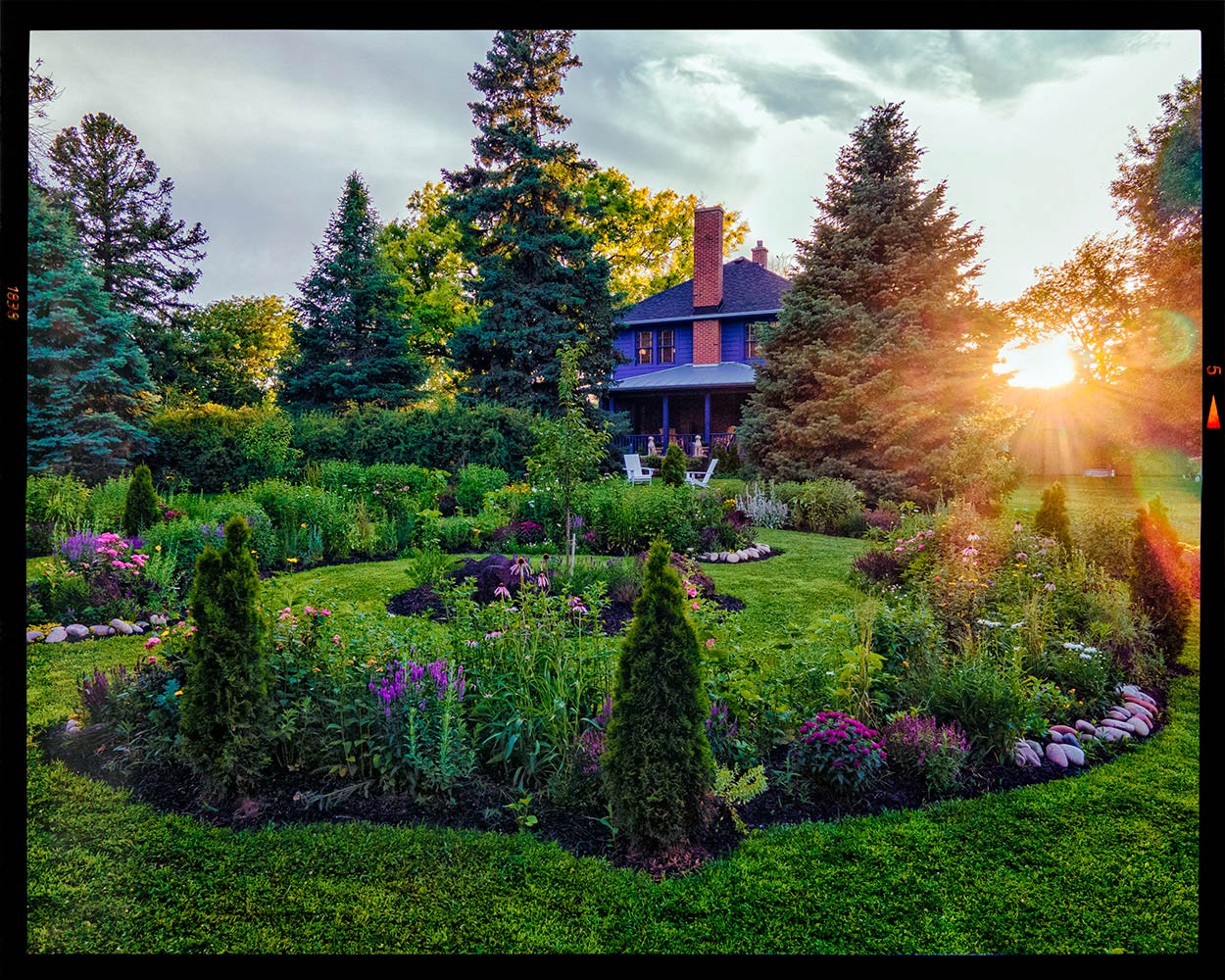 Roger and Chris have made homes in Austin, Texas; Sharon Springs, New York; Montclair, New Jersey; and, now, Omaha, Nebraska. They currently are in the midst of renovating and landscaping a 100-year old farmhouse and acreage in the city dubbed "Double Heart Farm." They have alternately described the project as "fun" and "exciting" and "exhausting" and "please don't ask me when we're getting around to redoing the kitchen." The homestead is shared with their goldendoodles Howdy and Rooster, deer, a flock of wild turkeys, foxes, eagles, raccoons, and, worryingly, at least one interloping skunk.
Follow along with R+C's adventures...