We Build Safer Sofas
Eco-friendly furniture free of unwanted chemicals.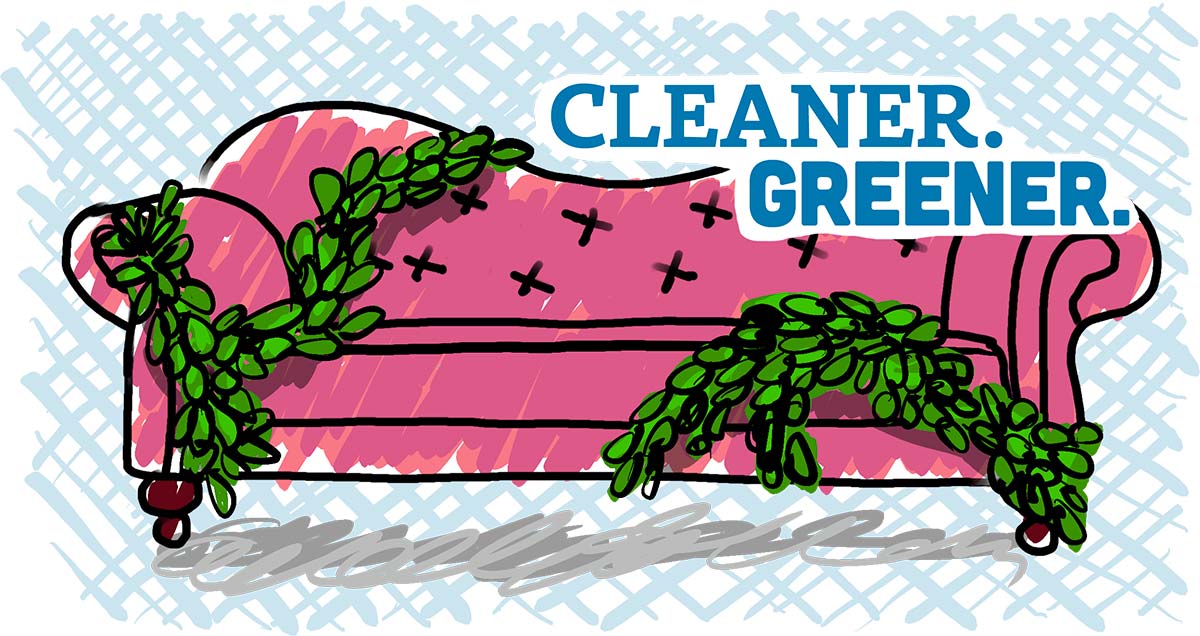 Our furniture is built to a higher standard. Because we own our own factories and control all aspects of production, we determine which materials are used in our sofas, oversee the manufacturing environment, and offer a deeper level of customization than nearly any competitor.
Below are highlights showing our commitment to making sofas for a healthier home and the available options for those with specific requirements for their custom-built furniture. If you have questions about creating your chemical-free and ecologically-responsible sofa, please give us a shout.
Formaldehyde-Free Frames
Our sofa frames are made from real lumber in our own frame factory. While engineered woods like plywood and OSB are treated with formaldehyde in the manufacturing process, the domestic poplar lumber we use is not, reducing your family's exposure.
Standard with all R+C furniture.
An important note: The majority of furniture companies state that their frames are "hardwood." Often, they actually mean "engineered hardwood," aka plywood or OSB. We cannot overstate how many companies do this. If you do not see a photo of their sofa frames, they are almost certainly building with engineered woods.
Low-VOC Adhesives
Our adhesives, like the wood glues utilized in strengthening frame joints and the spray adhesives used in the upholstery process, are low-VOC and free of animal products.
Standard with all R+C furniture.
Flame Retardant-Free Foam
We were proud to be one of the first furniture manufacturers to remove unnecessary flame retardants from our upholstery foam, a policy that continues to today. In addition, our sleeper sofa mattresses are made without flame retardants.
Standard with all R+C furniture.
Foam and mattresses can be ordered with flame retardants in the event that they are required for compliance with local codes or for hospitality applications.
No Applied Fungicides
Our furniture is made here in the USA, which means there is no transoceanic shipping of our products. As a result, and in contrast to many of our competitors, our furniture does not need to be sprayed with fungicide like dimethyl fumarate (DMF) to protect it from the mold that can grow on soft surfaces at sea.
Standard with all R+C furniture.
Down & Feather-Free
All of our furniture can be manufactured without the use of down and feathers. Our excellent down alternatives offer similar or superior performance without the use of animal products.
Available no-cost option.
Organic Latex Foams
GOLS-certified and 100% natural, our sustainable organic latex cushions are made from rubber tree sap. Note that this is in contrast to most manufacturers offering latex cushions, which can blend naturally and synthetically produced latex or mix soy-based foams with oil derivatives and flame retardants.
Available option.
Wool & Cotton Batting
Seeking to avoid synthetic batting? 100% organic cotton and New Zealand wool batting secured with organic muslin are both available upon request.
Available option.
Chrome-Free Leather
Widely used to soften leather in the tanning process, chromium sulfate is a harsh chemical with the potential to impact the ecosystems surrounding leather tanneries. Our tanneries use modern water recapture to minimize outside impact, but a number of our lines go further with chrome-free chemistry and clean water tanning processes to deliver a fully biodegradable leather hide and greatly reduced water usage.
Available on multiple leather lines.
PFAS-Free Fabric
Many of our fabrics are manufactured without the use of PFAS (per- and polyfluoroalkyl substances), the "forever chemicals" that have been shown to cause potential harm to humans and the environment. While these have commonly been used to protect fabrics against stains, a growing majority of our textiles are made without these chemicals, utilizing alternative strategies including fabric backings and adjustments to fiber composition to deliver practicality.
Available on multiple fabric lines.
Standards-Certified Fabric
A number of our fabrics and faux leathers comply with leading certification standards for safer household and commercial products. This includes the standards OEKO-TEX, UL Greenguard, HPD, REACH, RoHS, and Healthier Hospitals.

Available on multiple fabric lines.
Reduced Carbon Footprint
Our furniture is manufactured in our Hickory, North Carolina factory with a majority of materials sourced domestically. Due to greatly reduced reliance of international shipping and our efforts to utilize not just domestic but local suppliers, R+C sofas carry a smaller carbon footprint than most new furniture. Because we are a build-to-order company, we create far less energy and materials waste in the creation, warehousing, and disposal of unsold or underutilized inventory.
Standard with all R+C furniture.
Extended Product Lifecycle
Our furniture is built to last. We believe that the disposability of consumer goods is one of society's leading contributors to ecological impact, and our goal is to deliver a product that looks and feels good longer. Beyond this, we are one of the only furniture companies that is capable of making replacements for worn items on your sofa, such as seat cushions or fabric covers. Rather than replacing a perfectly good sofa, we can assist in further extending its useful lifespan and curbing waste.
Standard with all R+C furniture.
A Tree Planted for Every Sofa
In partnership with the One Tree Planted organization, we plant a new tree in North Carolina and surrounding states for every sofa we build.
Standard with all R+C furniture.