Roger + Chris
Furniture Reviews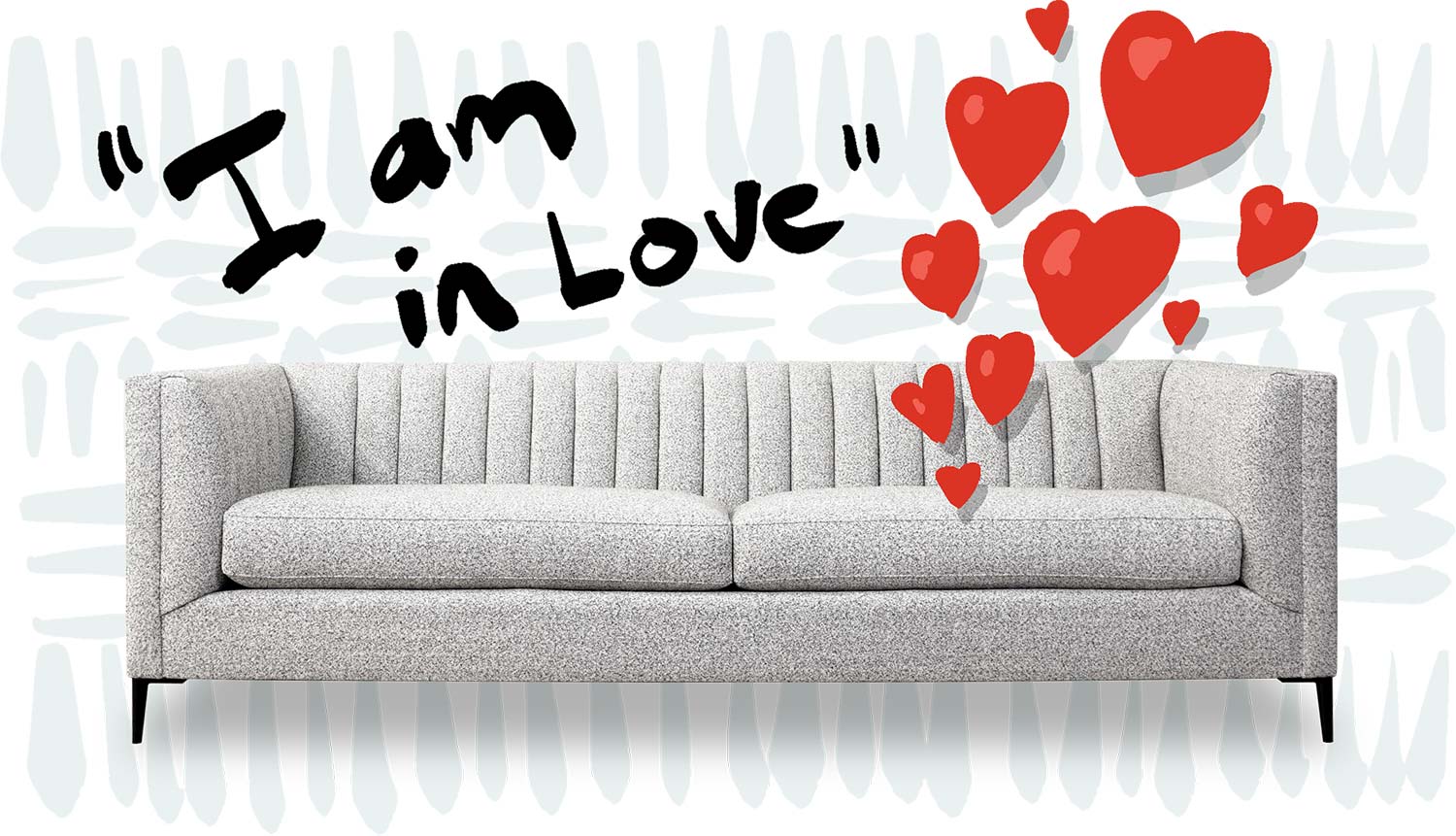 At Roger + Chris, we're obsessed with beautiful furniture.
We aren't the only ones. Read on to hear reviews of Roger + Chris furniture.
Irina K.
Hey Chris,
The sofa arrived. It's perfect. Thank you!!
Janice S.
Roger and Chris,
My two new couches I ordered from you arrived and they look wonderful! Thanks for all your help. Happy.
Michael B.
I wanted to drop you a quick note and say we LOVE the furniture.
Gar W.
Just wanted to drop a line and let you know our Higgins Chesterfield arrived this morning. I could not be more pleased with the finished product.
I was anxious at the prospect of custom ordering something site unseen and having a tough time making decisions to say the least. Thanks for making it a seamless process and allowing this dream to become reality.
Mary L.
My sofas arrived at Christmas in a blizzard. I really wasn't sure the movers were going to be able to get them into my house, much less drive out of my lane, but all ended well. I am just so happy with these sofas. I'd been looking for years, bought some junk in the meantime, and am just so thrilled to have exactly what I want. Just saying thank you for making such a fine product.
Kristina
My couches arrived this morning and are fantastic! Thank you Chris and Emily for all you care and help during this process.
Seguin S.
Sofa arrived this morning. We love love love it! It's gorgeous and comfy. We're so excited to live on this couch. The color & leather exactly what we hoped for.
Thank you so much!
Kelli
Thank you guys for my purple velvet chesterfield sofa! I jumped up and down, squealed and stomped my feet when I saw it. The delivery guys giggled at me. They said they loved my sofa too. I am very happy with it. You guys did an awesome job!
Hannah
Just wanted to say I got my couch and my chair and I am in love with them. Thank you so much for working with me to get something I can enjoy for years!
Thanks!
Grant
We've had our new sofa for a couple of weeks now. I just wanted to drop you a quick note to say it is exactly what we wanted. Thanks.
Patricia G.
My sofa was delivered today and it's beautiful and comfortable. I was really nervous about ordering a sofa online, but I couldn't be happier with the result.
Many thanks.
Kimberly G.
We just received our "blueberry" Higgins yesterday. It's sublime, pure elegance. We could not be happier! My client's mom even loves it and she doesn't like anything we've done! Thank you for creating such beautiful pieces at such doable prices. This the beginning of a long relationship.
Sharla W.
Chris,
Just wanted to share how much we have been enjoying our new couch. It is beautiful and fits perfectly in our space. My dream couch has come true thanks to you and Roger!
Beth O.
Our Higgins sofas arrived in New York and they are perfect and spectacular! Thank you!
Nick
I just wanted to thank you guys, my couch is absolutely fantastic. The leather exudes warmth and is an amazing colour, the design and shape are exactly what I wanted and it is beyond comfortable.
Thanks!
Sumant G.
Hi Chris,
The sofa arrived today. It's spectacular. A visual treat. Thank you so much.
Carrie C.
I just wanted to say thanks for a great couch buying experience. Your customer service was fantastic. But most importantly, our couch is perfect for our home. We love the look, it is beautifully built, and I am happy to have a great piece of furniture that was made in the US.
Julia B.
We just received our new couch and it is grand! We put it in our bedroom and, as you can see, it looks simply wonderful! Thank you much. We will treasure it for many years!
Gina R.
This "thank you" is long overdo. I ordered and received my sofa months ago and I want to thank you for your assistance as well as let you know how much I love it! The quality of this sofa is exceptional.
Thank you again!
Maggie S.
Just wanted to say a huge Thank You. I just recently purchased the Black Lab Light for my husband's birthday. He loved it by the way - it's fabulous. Not only was the lamp perfect, your customer service was perhaps one of the best experiences I have ever had when making a purchase whether online or in person. I'm looking forward to visiting your store next time I'm in the Sharon Springs neighborhood.
Thank you again for such a great experience.
Janis B.
Just received my Basel chair and ottoman. Absolutely love it!!!
Barbara S.
Just received my Cole sofa in Berkshire Bourbon leather. Absolutely stunning, high quality workmanship and comfortable. It was a pleasure dealing with you.
Katie
Hi Chris,
We received our sofa last week and absolutely love it! Thank you so much!
Janet C.
Hi Chris,
The Basel sofas arrived two hours ago! Beautiful! Thank you!!! The delivery service was awesome, by the way.
Amanda
We just went and picked up the sofa, got it home and unwrapped - talk about a sexy sofa! Thank you so much!
Omer
We have the sofa and love it. Thank You again for all your help :-)
Candice J
Hi guys! I just had my Blythe sofa delivered this morning and it is GORGEOUS!!!!! The quality has exceeded my expectations and I am so grateful that I found you guys! I will tell everyone about your amazing furniture! The cushions are PERFECT and the fabric is fabulous! I can't wait to order my matching chair! I will be calling soon! Xoxoxoxoxoxo
Alisa J.
Hi! You guys made a sleeper sofa last summer for my daughter's dorm room. Her room has been the "hang out room" for essentially everyone this year, and it's all due to the couch. It has also held up beautifully! Thank you!
Judith H.
I received my Chesterfield sofa yesterday, and all I can say is yesss! I am in sofa love.
Thanks!
Paige
I got my couch and I LOVE IT. It was SO worth the wait. I've found myself sitting across from it and gazing at it, as if it's my own newborn infant or something; it's ridiculous. Thank you so much for your help!!!
Rebecca (and Bill and Mariposa)
Chris,
Hi! You aren't wrong - the couch was absolutely worth the wait! It is gorgeous and soft and comfortable. It's absolutely perfect. Thanks so much!
Liz R.
I just wanted to let you know how pleased I am with our two new Higgins sofas. They are gorgeous! I was a little nervous about buying sight unseen, but these are honestly the most comfortable sofas we've ever owned. They are well-made and sturdy pieces. So thankful for your offering a great USA-made product, along with superb customer service at a very fair price. I will look forward to shopping with you again.
Mandy
Our sofa was delivered yesterday and we couldn't be more pleased. It's even better than we had imagined, beautifully designed and well constructed. We anticipate loving it and sharing it with our friends and family for years to come. Thank you.
Annette F.
We received the sofa today and it is beautiful - thank you!
Laura M.
Thank you so much for my cute schoolhouse Satellight lamp! I love him!!!!!!! I appreciate your cool style and your inspiration!
Caryl B.
I wish I had more room in our house for more sofas. I think I am addicted to yours. I want at least one in every room. No - seriously.
Ken & Bonnie
We wanted to thank you for providing our two new sofas, a 93" fabric Atticus and an 86" leather Gracie. We have had them for a couple of weeks now and are getting many compliments from visitors about their style and quality.
J R
Chris,
It was incredibly lucky that we crossed paths and the sofa and love seat are fantastic! They did a wonderful job and I could not be happier. Perfect!
Best regards.
Ari G.
The couch arrived and I absolutely love it! I'm so happy with how it looks - it's everything that I wanted! Thank you so much for your patience and guidance throughout the process... I really appreciated everything!
Eileen M.
I love my couch. My neighbor has been over six times just to look at it.
Anne S.
Our chairs were delivered last evening and we love them. Super soft fabric, ample size, and of course excellent construction. Thank you for everything.
Lori O.
The sofa arrived Thursday afternoon and I love it! Thank you! It is everything I wanted, expected, and hoped for. I still can't believe how good it looks and feels. The craftsmanship - it is stunning!
Once again, thank you for customer service and the quality and beauty of your product. I hope to be a repeat customer soon.
Jessica L.
Hi Chris,
My couch came and it is gorgeous!!!!!!!!!!!!! Tks again.
Shawn M.
I just wanted to say that the couch we received was absolutely beautiful! Now i just need our condo to finish construction. Thank you again and we look forward to purchasing more things in the future.
Carolyn H.
Hi Chris and Roger!
Just wanted to thank you for our beautiful sofa! It's the Basel English Roll Arm and it's pretty much perfect on all levels - very comfortable, great style, and looks like the Sunbrella fabric is going to be very hardy. You were so nice to work with (as were the manufacturing and shipping folks). Thank you!
Erin M.
Hi!
I have only owned this couch for about an hour but I just had to send a quick note to say how pleased I am with our couch. The quality and craftsmanship of the sofa is very very exceptional. I am so glad I "took a chance" on purchasing a sofa that I couldn't see in person. It is the perfect combination of style and comfort. Our children are only 4, 2, and one on the way but I feel this will be a sofa that my grandchildren will sit on. Thank you so much for making beautiful pieces!
I could go on and on...I really really love our new couch. :)
Amy W.
Hey Chris,
We are absolutely loving our R&C sofa (thanks so much for your help!)
Tatiana
The couch arrived yesterday and we love it! My husband is giddy over the couch :) It is absolutely perfect! Thank You for your help! We look forward to purchasing more furniture from You and Roger.
Sue B.
We LOVE the sofa - it's perfect. Exactly what we wanted and expected. You were all very easy and pleasant to work with, which I very much appreciated. We will order from you again!
Janet L.
Hi Roger + Chris,
I am absolutely in love with the Higgins Chesterfield sofa that was delivered a few weeks ago! My husband thought I was crazy for ordering sight unseen and specifically without being able to sit on it first. We proved him wrong. Your product is amazing and I can't wait to purchase another piece.
Marci G.
Chris, my sofa and ottoman arrived yesterday. They are beautiful and everything I hoped they would be. Ordering online without seeing it in person or testing it out was definitely a leap of faith but I'm so glad I did it. Thank you for all your help along the way and for having such an impeccable eye for design!!
I also wanted to tell you that the company who delivered to my apartment were also awesome. They arrived promptly and the two guys were incredibly polite and continued that great experience you gave me.
Kudos all around!
Stacy F.
I ordered two sofas from you in January, and want you to know that we love them. They are so comfortable, stylish, and everyone who sees them comments on them.
Allison B.
I wanted to let you know we received our sofa a few weeks ago and are loving it! Thank you again for all your help with it. We will absolutely use you all again!
Lauren
Just wanted to say we got the couches a couple of days ago and they are awesome! Love the look and super comfortable. Thanks for all your help with this!
Tara
My husband and I purchased a couch from you last year and absolutely love it, could not be happier with the quality, look, comfort, etc., THANK YOU!!
Matt P.
My Chesterfield arrived yesterday and it is awesome! You were very helpful during the buying process and the piece looks splendid in my office. Now, about a side chair... :)
Thanks again!
Lisarae L.
My blue velvet Atticus came today. It is breathtaking. The delivery guys were ooing and awwing — mad, you know, they see a lot of sofas ;)
Thanks again.
Happy in Virginia
Hello Roger+Chris,
This is to say thank you for my beautiful sofa! It arrived Tuesday and it was everything I had hoped for - elegant red, sexy chaise, and beautifully constructed. I had shopped a long time and looked at many options in which I would have had to settled for less than my dream sofa, but my new sofa is a designer's dream come true...just gorgeous! I made a bold choice and you delivered. Thanks so much.
Andrea R.
I LOVE my sofa! Thank you
Michelle M.
Good Morning, Chris!
We received our Higgins sofa on Wednesday and I ADORE IT! Every time I walk into my home I smile seeing it right there. It looks exactly as i hoped which says a lot for an item designed online without any tangible samples. What's most impressive though, is how comfortable and cozy it is. Everyone told me I was crazy for ordering a custom sofa without having sat on it, but after reading your infographics and website, I was confident my Roger+Chris sofa wouldn't let me down! Thank you thank you thank you for proving me right! I'm already thinking about what sofa I'm ordering when we decorate the living room!
Nannette W.
I received the couch today. It is just sheer perfection. It's like a poem, so simple yet elegant, and so unbelievably comfortable. It fits perfectly. I could not be happier. Everyone was a pleasure to work with and the couch got to Florida three days after it was finished. This is a true piece of art. Thank you!
All the best.
Molly
Good morning, Chris!
I received my exquisite new couch yesterday and I absolutely love it. The leather is incredible, and the craftsmanship matches. The super-secret Goldilocks size couldn't be a better fit! And it is so comfortable and squishy looking I've actually given it a hug a few times. I plunked right down in one corner with my knitting last night for a delicious, well-supported, comfortable hour.
Lucy and Jens
Hello R&C,
Let me review Lucille in Le Green! Oh, my goodness, we are beyond thrilled with the couch, its quality and craftsmanship and luxe feel are amazing. Everything we had hoped for and more. We want to thank you for the superb service, the accuracy in predicting arrival, the consults, and lastly the wonderful uber-polite delivery service men. We will order again and recommend you to everyone.
Heartfelt thanks from the owners of a lovely green dream.
Kelly R.
Just a note to say that i am very happy with the Pegeen chair! The Mont Blanc Evergreen leather matches just perfectly.
Patty N.
For others (like I was) who may be on the fence about purchasing without sitting, save yourself the weeks of dithering and get on with it! This is the most comfortable and beautiful sofa that I have ever owned. I received my Basel in Boss Tweed Indigo in May and wanted to give it a test run before I ran to my computer for a hallelujah chorus. It is a stunning and well made piece of art that I get to enjoy for years to come. How lucky is that!
Thanks, Roger and Chris for offering up your creativity any your passion. The sofa (such an ordinary word for an extraordinary thing) surpasses all of my expectations and my doubts. You have given me a chance to purchase a solidly built item, made in the good old USA, at a fair price. The customer service was outstanding on all counts, from initial contact through delivery. What more could anyone ask for.
Gary S.
Chris,
My sofa and chair arrived safely last week. Thank you helping me make the purchase. The sofa and chair are beautiful and very well made.
Again, thank you.
Lauren
Thanks for all your help. Wanted to let you know that I LOVE my new sofas. My 3 year old keeps asking everyone if they like her new sofas too bc she's equally obsessed. Thanks so much. I've been referring you guys to all my friends.
Trish
Just to let you know these were received and they are wrapped and waiting under the tree. Beautiful work. I think my boyfriend will just love them.
Kristina M.
Thanks for my matching Chesterfields--just in time for Christmas! Love them. They are amazing and it was such a pleasure working with you.
Lisa M.
Dear Chris,
My beautiful new couch arrived today. The photo doesn't really do it justice, it's so much more beautiful in person. I'm sitting on it as I type this. I love it!!!!!!!! Thanks for the fabulous customer service and unbeatable product. I am recommending you to all my friends. To think I came "this close" to ordering a couch from Pottery Barn!
A customer for life.
Grant J.
My wife and I bought a sofa from you guys a couple of years ago. It's our favorite furniture item. In fact, I've personally overheard my wife threaten our seven and nine year old children with bodily harm should they damage it. :)
Kim C.
Yaaaaaaas! Got the ottoman and it is spectacular. Great design and workmanship.
Shannon S.
My GORGEOUS sofa arrived yesterday, and it's perfect. I could not be more pleased. It's comfy and I don't want to get off of it!
Thanks again!
Laurie B.
Just got our Matera Carbon Blue leather sofa, and just love it! Beautiful job. The couch is even better than expected.
Thank you.
lj-a
The sofa arrived today. It's gorgeous!! Love it. Thank you.
Katie
Hey there!
They look great! The delivery guys were great too, so that was good as well. They have the approval of everyone here, funny how everyone has been plopping down on them and picking their favorite places.
I was so nervous; I am not now... It was a lot of money for us to spend (esp sight unseen), but the quality and comfort is amazing! I have no doubt these will outlast what could have been 3 or 4 big box couches, and of course love that they are American made.
Thanks so much!!!
Helen A.
The couch is suitably AWESOME in my living room. Love the clearly rugged but also soft and beautiful leather and low back. Works with my modern plus my antiques. It was great working with you guys.
Edith D.
I just wanted to to tell you how much I am enjoying my chair. It's beautiful! Everyone that sees it is in love with it. It's good that it's so heavy so they cannot steal it away from me!
Dan
Just wanted you to know that my sofas were delivered and I absolutely love them!! If anything, even better than I was hoping for. Also, thanks for expediting the order.
You can count me as a very happy customer and I will definitely be back for more.
Cheers!
Amanda R.
Just wanted to let you know that we received our couch this week and absolutely love it!! Exceeded our expectations.
Brad O.
Chris --
Hope you are well sir. We have finally gotten into the place where we have been able to move into our house and the couch that we had made by y'all has really made this space incredible. We LOVE it so much and couldn't be happier with it.
Scott and Greg
Hey Chris,
Wanted to let you know that the loveseats are GORGEOUS!! Thanks for taking care of us, and having a wonderful product!
Matt & Katie S.
Everything turned out exactly as we'd hoped, and we are thrilled with the entire experience of having worked with you on this order. Both Katie and I have raved about your company to our friends and family.
Edith D.
Hi Chris. I hope you guys are doing great. My furniture arrived and it looks gorgeous. Thank you. And thank you to Leo, who was absolutely wonderful and so helpful with all the details regarding the delivery.
Randall D.
Looking back to this conversation in October, it's great to have taken delivery of the Atticus today. Quality is fantastic, it's very comfortable and looks awesome! Thanks so much for working with me and for representing solid American made (and really well designed) furniture. Good luck with everything.
Liz R.
Hey guys,
I just received 2 Higgins sofas. They are gorgeous!
Thanks!
Christina S.
Lovvvve my sofa and chair! Thank you. Passing your Roger + Chris brand to the volleyball mothers.
Pam
My beautiful new chairs and loveseat were just delivered, and I can't tell you how happy I am! These are simply gorgeous-- I'm beyond thrilled and will be ordering more from you in the future.
Take care and thank you.
Jill R.
Our new sofa arrived today. We love it! The fabric you helped us choose looks great. Thank you so much. I'm never buying furniture from a big furniture store again!
Marla Y.
Just wanted to reach out and thank you for our new sofas! We absolutely love them. We just got done putting together our new living room (coffee table arrived today) and we can't get enough of the sofas! Have gotten so many compliments.
Ati W
Hey Chris-
Hope all is well. My couches are soooo gorge. We are still enjoying them, and I tell EVERYONE about you!
Sarah K.
We love the couch. My husband says it's his favorite piece in the whole house. Thank you for your help and for offering an outstanding product.
Lisha M.
The most amazing purchase ever.
Molly
Hi Chris,
Thanks again for such an easy and enjoyable couch selecting process. I am so excited I can hardly stand it! You've been incredibly helpful and patient with me.
Joanne C.
Hi! An elated, happy leather couch purchase! I love everything!!!!
Lisa B.
The couches look great--we couldn't be any happier with them. They're perfect!
Shelley
I ordered a WONDERFUL sofa from you this year, as did my daughter in law and my sister. We all adore your incredible furniture!!!!!! Can't say enough, and it's so much fun to talk with you too!
Warmest wishes.
Debalina D.
Got our chair. We are so in love with it. It's super handsome and beyond comfortable.
Natalie N.
We received our couches yesterday...they are perfect! Exactly what I had envisioned and beautiful craftsmanship. Thank you for a job well done!
Rachel D.
Super happy with our Blythe sofa! Everyone loves it.
Julie B.
My Higgins arrived today and it's perfect! I love it so much! I will definitely order from you guys again! We can't wait to finish our living room. Thank you so much!
Meghan C.
We L💙VE this couch and are so happy with it! Thanks for all the back and forth on swatches, and I can't believe how quick it got here! So glad I found you guys on Instagram - through #chesterfield hashtag!!!
Jane
Guys!
A few months ago Chris spent some time on the phone with me trying to figure out a new sectional for our home. And on Wednesday, it arrived and was installed in our living room. It is terrific!
The firmer cushions are really wonderful as we don't sink down. The arm shape is fantastic! The color is great, and my husband complimented me on the measurements, as it is a perfect fit. We can tell this is a pretty nice quality piece of furniture, and look forward to the many spills on the off-white (LOL) and making a zillion pillows and quilts to hang over the back. Really glad we did not go with Restoration Hardware; your product deserves a five star rating!
Thank you for all the help and coaching!
Liz, Curt, & Parker (woof!)
Last week we received our new chair from you and we LOVE it!!! It's so well made and fits in with our Higgins sofa, which is getting a lot of use. Your products and service are one of the reasons for making a return purchase.
(Here's Parker on "his" Higgins Chesterfield sofa.)
Lisa D.
Just a note to let you guys know that I LOVE the couch! The craftsmanship is impeccable and it's beautiful. Thank you so much!!!!
Thank you again!!
Michael S.
My chair was delivered today. It's absolutely beautiful, and the quality is amazing. I'm really glad I went with the waxed canvas. It's very distinctive. I'll definitely recommend!