Grey House: Renovating a 160-year old Victorian.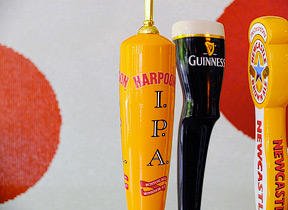 Design inspiration comes from many sources. We love the style of 204 Main Bar & Bistro, which recently opened in the historic spa village of Sharon Springs, NY. Owners Jim Grinchis and Norm Phenix combined classic architecture with modern styling to create a fresh look.
About the restaurant.
Jim Grinchis and Norm Phenix had spent the past 20 years contemplating opening their own restaurant. After ten years of regularly visiting Sharon Springs as a getaway from their life in the city, they decided that this was where they could reinvent themselves. As Jim says, "You have room to stretch in Upstate New York."
Norm developed a passion for food at an early age, spending time with his mother in the kitchen learning to cook. At 204, all desserts and breads, and most pastas, are made in-house. All dishes are prepared and presented in a simple, straightforward style. They use only the freshest ingredients and, when available, feature locally-sourced meats, cheese, cultured butter, maple syrup, and more.
About the style.
Jim and Norm applied their design expertise to create a unique look one might not expect in a village setting.
Norm constructed the tabletops using wood salvaged from a nearby collapsed barn. Jim hung attention-grabbing wallpaper, including a hand-blocked pattern created by Adelphi Paper Hangings, also located in the village.
They took particular care to showing respect for the historical characteristics of the space. The floors and ceiling are allowed to make an impact. (Norm refinished the original tin ceiling tiles one-by-one.)
According to Jim:
"We wanted to bring something fresh to the area in terms of design and decor. Something modern that never ignored the historical integrity of the building. The tin ceiling, contemporary wallcoverings, industrial lighting, recycled tabletops, old wooden floors, contemporary art - they're all elements that add up to a warm, inviting space."
Take a tour through 204 Main at the link below. If you're visiting Sharon Springs this summer, be sure to check out the restaurant as well as BANK, Jim and Norm's gallery next door which opens soon.

Roger Hazard
· Founder · Roger + Chris · Sharon Springs, NY
Roger Hazard is TV's original home stager, as well as designer / producer on the international, Emmy-nominated "SELL THIS HOUSE," "SELL THIS HOUSE: EXTREME," and "MOVE THIS HOUSE." MORE ABOUT Roger Hazard
Hot right now on Roger + Chris
10 Design Tips for Picking the Perfect Chesterfield
The Chesterfield sofa - one of the oldest and most desireable sofa styles - is seeing a very well-deserved resurgence in popularity. As "the king of sofas," the Chesterfield bring a huge amount of style and comfort to any home or business. Available as a sofa, sectional, armchair, or chaise, there are quite a few things to consider when picking the perfect one. Here are 10 tips that will give you a big head start on the search for your dream Chesterfield.

Restyling a Garden House: Paint It Black
A cute, 160-year old Italianate Victorian had the potential to be a stunning garden house - but only after taming the garden, adding style to the porches, and applying some unexpected new colors.


What do you think? Share your thoughts below!
RELATED POSTS
Every Day is a Holiday
We just returned from a short business trip to a town that is literally a stone's throw from Canada. (We actually took the exit boldly marked as the "LAST EXIT BEFORE CANADA," which someone should use as an album title.) And while we weren't meeting or socializing with folks, we were in our hotel room watching TV.


Before Photos
Want a peek inside our house before the renovations start? Here you go.