The Modern Farmhouse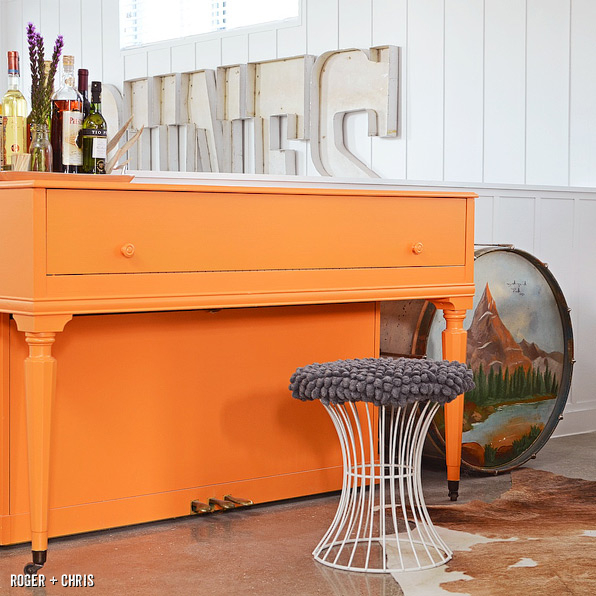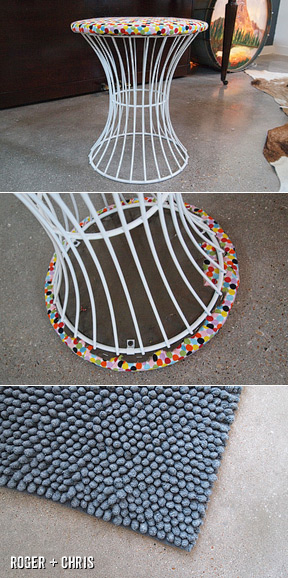 We wanted to add substance and texture to this wire piano stool, so we recovered it using a chenille bath mat with big, soft pom-poms.
Recovering most chairs is a fairly straightforward process. The seat can typically be separated from the base by removing a few screws. If the seat foam is still in good condition, it is easiest if you cover right over the existing fabric. With most fabrics, all you will need is a pair of scissors and an upholstery stapler.
Tip: You might be able to get by with a desk stapler or general-purpose staple gun. However, I strongly recommend spending around $20 on a real upholstery stapler if you're going to be doing more than one recovering job, as it will perform better when driving staples into the wood board that forms the seat.
After removing the seat, I laid the bath mat face down on the floor and placed the seat on it. I trimmed away the excess material but left a healthy border to give me some flexibility; you can always trim away extra fabric after affixing it to the seat, but you definitely don't want to cut it too close on the first attempt.
Because I was working with a chenille mat with a very thick pile, I had to fiddle with it a bit. It wasn't easy to staple, and the staples alone wouldn't hold the fabric in place because the material was so soft. In the end, I used the staples to keep it in place, then replaced the base, screwing through the bath mat and tightening everything enough to allow the metal rim of the base lock the mat into place. After reassembling the stool, I trimmed away the excess mat and a few pom-poms that were hanging down too low.
Sources: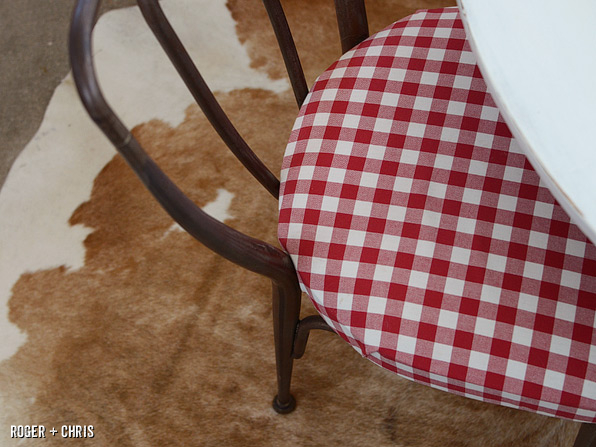 Chris Stout-Hazard
· Founder · Roger + Chris · Sharon Springs, NY
Chris Stout-Hazard leads product design and development for Roger + Chris and co-stars with Roger in Roger That. READ MORE
Hot right now on Roger + Chris

Creating Cooler Kids' Rooms
Decorating your child's bedroom is no easy task. While it can begin as an opportunity for self-expression for your son or daughter, the project can quickly grow into a conflict between fun and function. We transformed two bedrooms in two days with CertaPro painters and some simple DIY projects. Here are some guidelines for creating a fantastic-looking bedroom that meets your child's needs, and the specific touches we added to these two rooms.


What do you think? Share your thoughts below!
RELATED POSTS